Abstract Art Shower Curtains
Abstract art shower curtains can add a touch of art to your bathroom even with limited space, or when you're lacking a decor theme. If you can find a unique looking curtain that will complement your decor, it's the cherry on top!
Now me, I love abstract art, but putting it into practice is a different story…I suck at it (I think I'm just "wired" to be a realist) But that doesn't stop me from admiring it, not just paintings, but in accessories, too.
Sometimes really pretty ones can be hard to find, or just the right style. It all goes to show you that art is not just found in wall tapestries and hangings….one look at these different curtains and you will agree!
Pin For Later?
Abstract Watercolor Sea Scene Curtains
I love these curtains here with these beautiful misty washes of sea creatures. I've always been enamored of sea creatures as aquarium/fishkeeping is one of my "other" hobbies.  Scenes including marine life and water waves are sure to be a hit if your bathroom decor includes related items with nautical, marine life and beach themes.
This crashing wave pattern curtain on the right is dramatic and eye-catching.
Shower Curtain Sea Wave Watercolor Painting Print Fabric Bathroom Decor

SKL Home Watercolor Ocean Fabric Shower Curtain

This pattern of green, lavender, and blue starfish, turtles and seahorses alternating would go well if you have cool color decor in your bathroom as well as ocean or beach-related. The white backdrop with the tranquil effect of floating sea life will lend a nice touch.
Spring Floral Abstract Flowers Curtains
Spring is my next favorite season after fall, and these springtime flower watercolor- look shower curtains will definitely breathe new life into your bathroom! I love these delicate color washes – from some distance away they look like bright and sprightly bouquets.
There are several different color combinations available…but these here I found in blue and red are just gorgeous 💐.
Watercolor Flower Shower Curtain Retro Style Floral Art Bathroom Curtain

Watercolor Floral Shower Curtain Colorful Flower Peony Red

I notice that on Etsy the most popular product designs often include watercolor floral bouquets. I recently got some watercolor bouquet svg's (scalable graphics) to download to further enhance some of my own designs. The curtains above…lookswise, not much difference in them and a real painting much huh?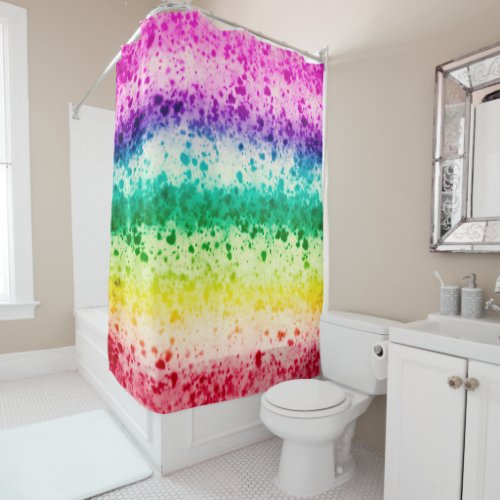 Rainbow Brush Splatter Modern Abstract Art Shower Curtain

Brush Splatter Abstract Art Shower Curtain
Do you remember doing "splatter painting" back in the day?I used to save old toothbrushes for this purposes. I'd stir up a batch of paint thinned with a little water and flick it at the canvas with the toothbrush.
Great way to get that effect! This curtain here is showing the kind of look you can get from strategic "paint flicking". All the beautiful rainbow colors make for a look that will bring the most ordinary bathroom to life.
Even better you could choose a variety of bathroom accessories that are any of these colors and would look good.
Abstract Multicolor Pattern Shower Curtain
All these beautiful colors and you biggest problem won't be finding something that will match…it'll be narrowing it down to which one! Although I think something in the red or pink neighborhood would work best. When you install one of these vibrant beauties, they will be hard to ignore for certain.
Abstract Shower Curtain Watercolor Paint Splatters Brushstrokes Liquid Art

Abstract Shower Curtain, Rainbow Colored Geometric Square Shaped

The left one, looks just like the effects you get from swirling actual watercolors around and watching the colors bleed into one another.
Shower Curtains with Modern Abstract Swirl Patterns
Modern abstract patterns like these are eye-catching as the colors intermingle with one another. I have lavender walls in one of my bathrooms and one of these would fit it perfectly.
Do you remember the technique in which you drop different paint colors into a dish of water and lay a piece of paper on top? The resulting look is what the curtain on the left makes me think of.
Artistic Colorful Abstract Paint Swirl Art Pattern Shower Curtain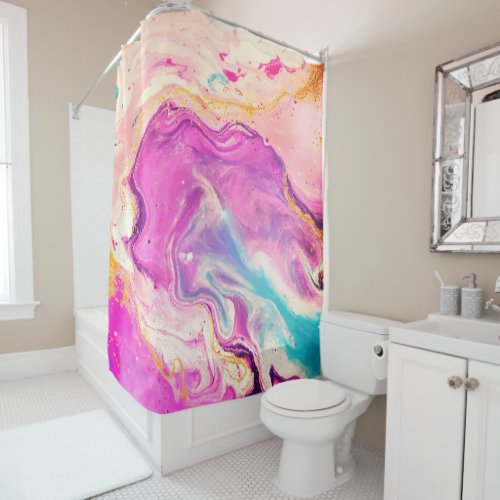 Modern Abstract Pink Purple Paint Swirl Shower Curtain

One thing is for sure, these are prettier patterns than what I see when shopping here at local venues. Hope you enjoy!