Scrapbookers Gift Guide🎁
Hi all are you digging deep for the best gifts for scrapbookers? Does it seem like that's a tough hobby for this…after all, you may know as well as I do that they may have a room overflowing with materials – how could you possibly compete with THAT???😁
You may be thinking they already have a ton of paper, and as far as a new cricut machine goes – fugghedaboutit as that is one of their prized possessions. The key here is to kind of go away from the department of supplies – and think along the lines of fun, funny, and unexpected. I have some ideas for you that will surprise a scrapbook addict on all levels, and really make her day!
Cute and Funny Tote Bags For Scrapbookers
I found these adorable and funny totes on Amazon and Zazzle with cheeky phrases on them. Does the scrapbook enthusiast in your life have her own tote? If so, I'll bet she doesn't have one like these! I love that one on the left – is the person on the receiving end a little, uh…crazy obsessed like that with the hobby? We don't judge!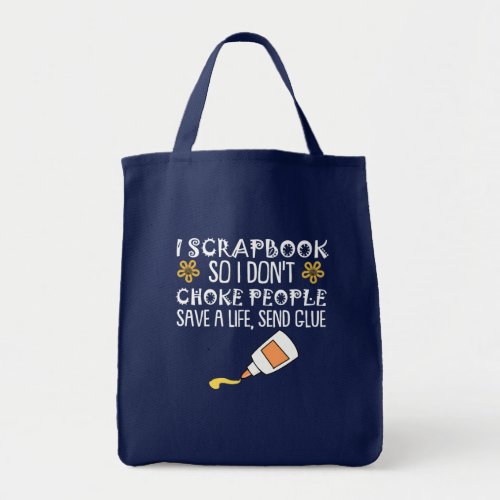 Scrapbookers So I Dont Choke People Tote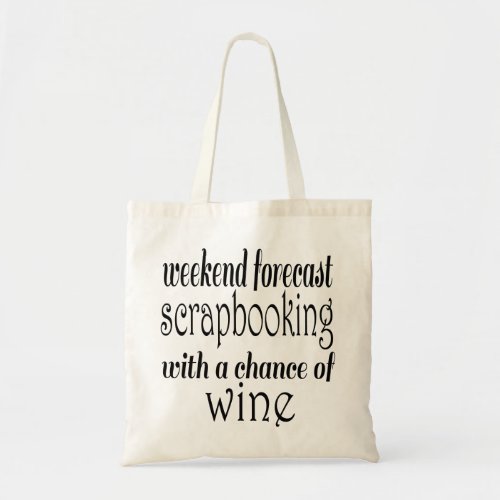 Scrapbooking and Wine Tote Bag

These fun totes establish that scrapbooker identity, which speaks to the pride they take in their craft, in addition to being funny and relatable. She or he will carry it with pride and it may open up a few conversation starters during day to day activities too!
And as a special bonus, it will hold some of their materials too on the chance she likes to look for inspiration when out and about, or when traveling!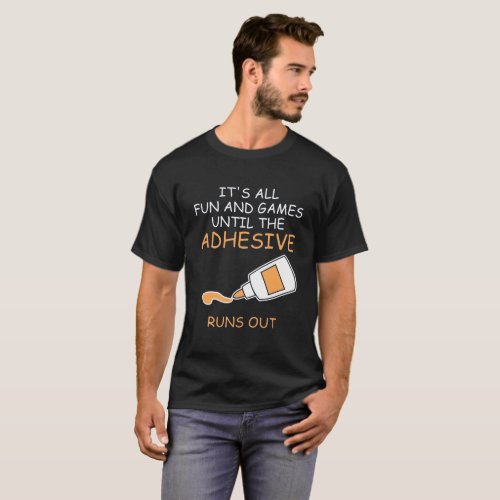 Funny Scrapbooking Shirt All Fun and Games

Funny Scrapbook T-Shirts
A funny article of clothing with something cute in the saying department will be well-received for sure! Tshirts and raglans (baseball style shirts) like this one with a laugh out loud funny scrapbook- related saying make terrific gifts whatever the occasion.
This one reads "It's all fun and games until the adhesive runs out" (apologies if it's hard to read) Pretty clever huh?
If you like the message and the design but want a different shirt style (e.g ladies sizes, raglan, etc ) or color it can be customized to fit whatever your recipient's tastes are.
Is a Funny Scrapbooking Mug Their Cup of Tea?
I think it could be! A mug like one of these, whether a conventional size or a travel tumbler with a funny scrapbooking phrase on it is sure to be a big hit – next time she takes her cup of joe, she will want to reach for it with gusto! If not a big coffee drinker, that's OK too, as it will also make a great writing instrument holder, too!
It was hard to pick the funniest…as there is no dearth of funny scrapbooker mugs out there with snappy, snarky or witty remarks on them!
Diy Crafty Scrapbooking Sayings Funny – Coffee Mugs Best Gift Unique Ceramic Novelty Cup

Gift for Scrapbooker, Scrapbooking Travel Coffee Mug, Stainless Steel

Funny scrapbook mug – My job interferes with my scrapbooking – gift idea for scrapbooker

Gift Certificate $25 Value – Print or Email

Give a Gift Certificate to Your Favorite Scrapper Today!
I know I said I wanted to go away from the "materials" route, but I think this idea is such a thoughtful one I thought I would include it. Have you thought about sending a gift certificate their way for the intended recipient to redeem and enjoy on their own terms?
One of the most popular scrapbooking supplies websites I am familiar with, Scrapbook.com, offers tiered levels of gift certificates …they start at $15 and go all the way up to $200. Another thing is you have two options for delivery – you can download and print it out to give to the person, or you can email it to them – that would be great if the person lives far away and you don't get to see each other much, but want a great way to let them know you're thinking of them!
>>>>See all the different Gift Certificates Here!<<<<
Special Themed Notebooks
Does the scrapbooker you know also like to journal? I know many of them who do a little bit of both – the two are a match made in crafter heaven!
Scrapbooking and journaling, especially with cards – go hand in hand, which is why I think these cute themed notebooks would make a great gift. It's a rare crafter out there who couldn't use another notebook to write in!
Funny Scrapbooking Notebook Gift Idea

I Had No Idea Funny Notebook For Scrapbookers

Funny Trump Journal – Notebook 6×9

I love that one with Trump, it's a hoot! I know I'm a big notebook collector….they don't stay clean and empty for very long! Choose witty sayings like the first two or one with a unique theme like animals or nature. A thoughtful gift sure to be appreciated!
Pin Me? 📝
Scrapbooking Degree: Custom Gag Diploma Doctorate Certificate

Got a Degree in… Scrapbooking?
If you're looking for a novelty gift, this hilarious "college degree" could be just what you're seeking. It looks almost indistinguishable from the real ones issued to degrees in science or law, but the *degree* lauded here is yep, you guessed, their favorite pastime.
Take it from me, it is every bit as credible. You can personalize it too with the recipient's name as a finishing touch. It can be framed and hung right there in the craft room. Everyone who sees it will get a good laugh for sure!
Give the Gift of Stories For Scrapbookers
If you're familiar with the Chicken Soup For the Soul series, you know there's probably a book dedicated to every niche of people under the sun. So it comes as no surprise (well, it did me) that there's a book for scrapbookers! Filled with heartwarming stories of binding traditions with the craft, it's a great read on those days when you want to maybe take a teensy little break from the craft room and curl up in front of the fireplace with a hot cup of whatever you enjoy most.
&
Chicken Soup for the Scrapbooker's Soul: Stories to Remember

Scrapbook Personalized Craft Wall Clock

Personalized Scrap Room Wall Clock
What do you think of this clock with a cute design I found, It's got a unique looking face AND you can personalize it with your scrapper's name too! They too like having things they can call their own. It's original and designed by a genuine maker. Definitely haven't seen this design everywhere!
About 5 years ago I bought a clock from Zazzle (I submitted a jpeg for one of my own pieces of artwork) and it came out great! The clock is made from hard resin and takes two AA batteries. You won't be disappointed. It would look totally smashing in his or her favorite room in the home.
Scrapbooking Charm Bracelet, Stainless Steel Bangle Gift for Her

Scrapbooking Charm Bracelet Gift
If you're in the market for a handmade gift, may I suggest this classy looking charm bracelet with dangly little scissors, cup of instruments, camera, and book. Simply adorable! Made of non-tarnishing stainless steel, this bangle style bracelet (no clasp) is adjustable on the side.
It also includes a cute organza drawstring bag for safekeeping. If the scrapbooker you know appreciates jewelry, this is sure to be a hit when she unwraps it! She'll happily include it in her wardrobe every day.
Keep Calm and Scrap On Sign
Looks like the "Keep Calm" parody craze isn't showing any signs of slowing down – how about a witty metal sign like this one? Keep calm and scrap on! I found a few different styles and colors to suit different furnishings. She or he can mount it anywhere to make a fun hobby related statement in the garage, family room, man cave, or even by the coffee bar.
Keep Calm and Scrap On Funny Parking Sign

Keep Calm and Scrap On Metal Novelty Sign

Funny Aluminum Sign Scrapbooker Parking Only

That one on the right I thought was funny too, so I included it – the small print at the bottom reads "Violators will be sold for scrap" 😁
Well, that's my lineup…what do you think? Ten memorable, funny and unexpected scrapbooker gift ideas that definitely aren't more paper, tape or stickers! Which of these is YOUR favorite scrapbooker gift 🎁?
===>> > See More Scrapbooking Gifts