THIS POST MAY CONTAIN AFFILIATE LINKS AT NO EXTRA COST TO YOU.
Cardboard furniture for cats is is all the rage now. I know many of you out there think furniture for cats is a waste of money, because they always seem to prefer our furniture, am I right? Then again, what if I were to show you something cat friendly that's not only designed from a cat's point of view, but its also esthetically pleasing and delightful to look at, too?
Pin for Later? 🐱
Cardboard is the ideal material for cat hideaways. Why? Well, it's:
Environmentally friendly – and biodegradeable
Lightweight
Adaptable – all you need is a scoring tool and measuring tape to turn it into art
You can paint it!
Way back in the day, I LOVED cardboard, I thought it was the bomb-diggity as far as art materials went. Woodcraft was a little too advanced for my ten year old ability, but give me a carton and some Sharpie pens and I was sitting in high cotton. I always remember the pretend "stove" I designed from one big box and some markers I designed when I was about 7 or so.
You notice how much cats love empty boxes? You order something from Amazon and two minutes later they are
jumping in there, Here's a snapshot of Buddy who couldn't wait to find out what I had in store for him (it was actual grids I was planning to use to build him a cat run. )
Can I get an "AMEN" form some of you Prime members and cat owners?
Now, that I've waxed nostalgic a little bit let me show you all of the cute and unique cat houses and hideaways I have discovered, with some additional ideas on how you can create your own too!
The drab color of brown not your thing, that's OK! You can paint these too!
Mayan Temple-Inspired Cat Habitat
Check out what I have found from the shop CocoaPetts on Etsy, based in Bulgaria, they have a series of cat hideaways designed from 3D CAD models. There's architecture, vehicles, and castles all made with felines in mind. All of them made with 4mm corrugated cardboard that will need to be assembled (instructions are included) and you could disassemble them later on if you need to, and paint them too.  The seller recommends spray paint, which would be great for all one color. Some of them you may need to have a screwdriver handy, depending on level of intricacy.
This design is my favorite out of them, it is the Mayan pyramid, reminiscent of Machu Picchu, cats, as you know were worshipped in antiquity (…And they have not forgotten this, remember the quote?) A cat god known as Bast was the supreme deity…Your furry princess can feel just like that when she takes a seat in this one!
Game of Thrones Inspired
You know cats fancy themselves as royalty, and this throne says it all. If you are a fan of the show, you will love this one. The design itself is excellent as-is, but if you wanted to make it really authentic, you could paint it gun-metal gray or silver.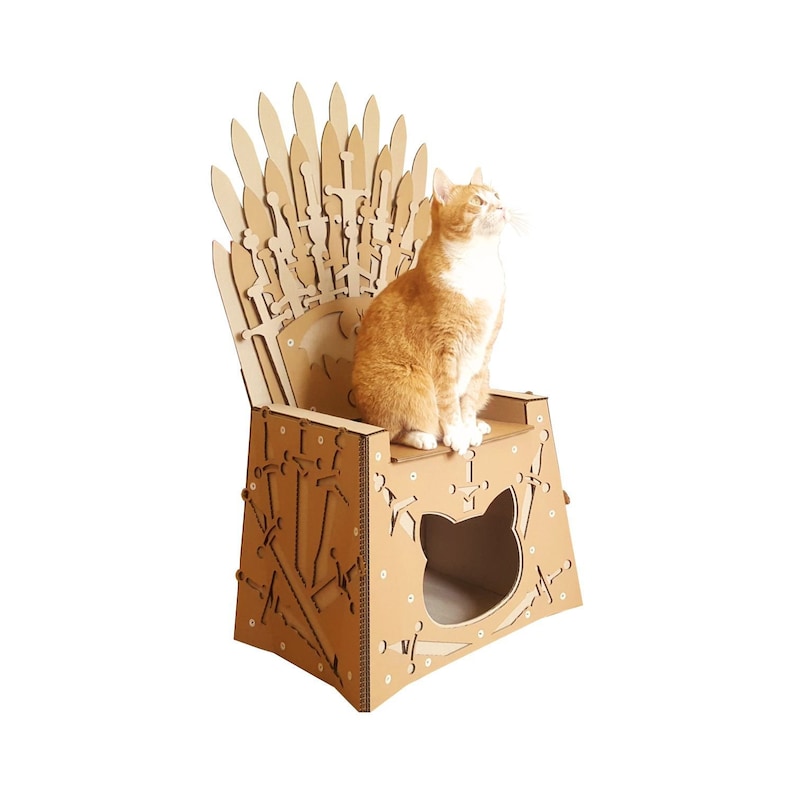 Cat Seat Inspired by Game of Thrones

Dr Who Tardis
My late husband was a big fan of Dr Who, and I love just about anything to do with time travel, so this is another one that is unique. Let your cat have their own inter-dimensional adventure when he steps in…the neighborhood cats will be a little jelly, for sure.
A Milk Carton Decoy Cat Hideaway…TOO Cute!
This one is too cute…This is a really cool milk carton play place for your cat to go in and out of. It is 55 cm in height. There are four different styles being offered. Banana, strawberry chocolate and the "plain whole/1 and 2% milk" we're all familiar with. I like the way it says "drink me " on the side. It will arrive collapsed, you'll have to unfold it.
Just slide a blanket in there (or preferably, one of your own garments – cats prefer that) and it will be irresistible as a place to tucker out for the night. Or grab a catnap…
Modular Cardboard Cat Hideouts
Prefer to err on the conservative side? That's cool, we get that too! Sometimes a simple cube can do a whole lot – round and semicircle openings to peer out of, curl up in, and spy on us hoomans….yep these do that too. These have the added bonus of a scratch pad on top, too. Multiple cats and kittens can get a lot of mileage out of these.
Corrugated Cardboard Kitty Cube

2 Story Scratcher Cat Play House

Look, Your Cat's On the TV….
Whoops, I mean, IN the TV….how silly of me. Literally.
TV Cat Scratcher Cardboard Lounger

This is a pure genius idea, and I love the "retro" look it has, since most of us now have flat screens, this is a really cool blast from the past. Not only that the top and the inside double as scratchers, too.
Cat Tank Playhouse
All felines on the frontlines…This is too cute, can you picture Fluffy defending our freedom in this? Tank you for your service, Private Kitty! I like how accurate the colors and details are.
Could You DIY One of These, Too?
Do you think you could put one of these together yourself? You probably could if you're like me and always accumulating boxes…. I thought I would take a look around and see what other kitty moms and dads have come up with…
Here's some ideas I found on instructables.com….(You can find the tutorials, there too) That I had to share here, perhaps one of them will inspire you as it did me. There are boxes sitting around my living room right now and I'm in a quandary (a GOOD one to be in, lol) about what I'm going to do with them. I'm thinking Blaze (1 yr old Tortie) will love having her own personal fortress  to watch her big sister Cosmo….ANyway, here's what I found!
A Modern Looking "House"
Image credit: CardboardNinja
I love this one, the way the creator turned his boxes inside out so the writing on them wouldn't show, and the way the sides look like vinyl siding, plus "patio lights" in the form of one of those fairy twinkle lights people use in bottle decorations (they use a battery.)
A Holiday House For Cats….
Need to get into the holiday spirit? This Christmas-inspired "gingerbread" house is something else!
Image credit: Elly Gibson
Just adorable…with the roof and shingles.
You can tell she probably used markers and paint as well…The details are great, I especially like how she crafted the chimney, what do you think?
Create a Dome From Triangular Pieces…
Image credit: Nelyan
Do you remember those "jungle gyms" you might have played on as a kid that were shaped , like, an octagon, or tetrahedron, or something? I know I did…I could climb across the top and practically stargaze there for hours. No doubt, a cat could find the same level of bliss in this layout. This is one design inspired by it. She made the triangle shapes from cereal boxes, it appears, which is pure genius.
They re scored and folded from the inside so the writing doesn't show. Then the sides/bottom use oblong shaped pieces. Her cat has the purr-fect place to hide, nap, dream, plot and scheme whatever….
Additional Tips and Tricks
So you'd like to do something like this for your kitties? Good on you!  Here are a few of my secrets for working with cardboard:
When you cut cardboard, ALWAYS use a scoring tool (x-acto knife, box cutter, etc.) Never scissors – they will not produce clean, precise cutouts.
For less show-thru, be sure to paint the box with a coat of white first.
Use a black Sharpie pen (broad or chisel tip) to create the outlines
And if you've made it this far, here's a few more ideas for inspiration…..
Hope you enjoyed this lineup, now you….What are you going to delight your cat with today?