Frida Kahlo Gift Guide
Do you know a dedicated fan and now you are scouting out some unique Frida Kahlo gift ideas you can't find everywhere? Frida fandom is widespread in the art world, for good reason! My husband and I did get a chance to see the movie about her life starring Salma Hayek (If you haven't yet, I would encourage you to as well!)
Before I began this gift list, I wanted to do a little reading up on Frida so I could have a better reference point. She did have something in common with my husband – physical hardship, for one thing…which she channeled into her unique painting style that combined magic, realism and folklore.
Anyway, if you know a certain fan who loves and admires her work, without further ado let's get into the many amazing gifts I found!
The Barbie Doll in a Frida Kahlo Likeness
No girl that has ever lived didn't treasure Barbie….and with so many styles and representations it is no surprise that Frida is available now in a 12″ fashion doll!
Wearing her signature turn of the century fashions with a shawl, long skirt and exotic jewelry, this Frida Kahlo doll is a must for the collector.
A few people said the unibrow wasn't as pronounced as the pictures show – but other than that they're proud to set her up on the mantelpiece with their other art treasures (she can only stand – this doll is not bendable)
Frida Kahlo Art Coffee Mug – Comes in Gift Box

This Frida Kahlo Coffee Mug is Almost Too Pretty to Use
True to the vibrant, passionate life that the artist lived and the style she worked in, this mug is sure to be a big hit with a special recipient. The colorful design wraps around both sides, and it's dishwasher and microwave safe – still and yet, this gorgeous mug is almost too pretty to drink out of!
Which is OK, as it could also make a great holder for writing instruments too…one thing is for sure, it will definitely be proudly shown in a nearby spot like a desk or office. It's wrapped in a gift box and one of Frida's quotes is printed on both sides in English and Spanish.
As variety is the spice of life, here are a few more unique Frida mugs I found…I love that "Day of the Dead" inspiration on the first one – it's a great way to pay tribute don't you think?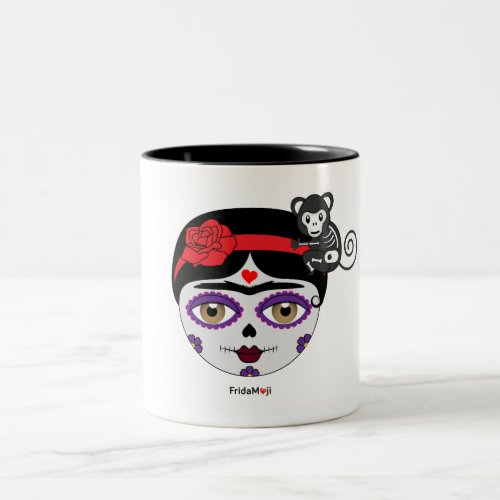 FridaMoji – Two-Tone Coffee Mug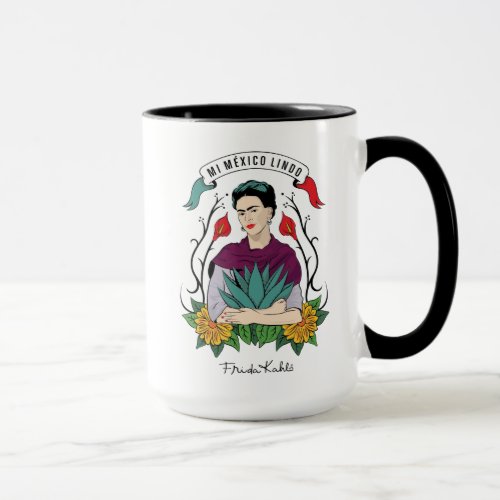 Frida Kahlo | Mi Mexico Lindo Mug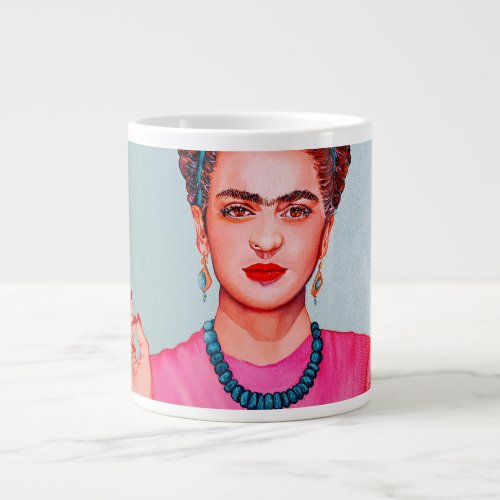 FRIDA KAHLO BIG COFFEE MUG

Tees Inspired By Frida's Art
These Frida tees I found on Zazzle are awesome! As you can see they're screenprinted with only the most vibrant designs, inspired by folklore, and Mexican holidays like Day of the Dead. I always loved Mexican folk art – so much color and boldness! You could also choose a different color besides white, or a different shirt style, like raglan or long sleeves as you have many customization options at your fingertips.
Frida T-Shirt

Kahlo Frida by Jesse Raudales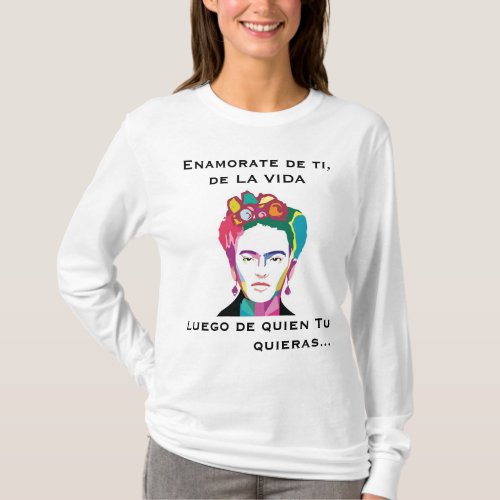 frida sweater shirt

Frida Kahlo Weekly Planner, Yearly Planner and Daily Planner, 17-Month Form Aug-19 to Dec-20

A Weekly or Yearly Planner with Frida Makes a Great Gift!
Planners are really hot, and that's why we love this beautiful planner with Frida Kahlo on the front cover of this spiral-bound notebook planner. it also includes little niceties like a couple of sticker pages and a ruler bookmark.
The elastic strap on the front helps keep everything secure when you're coming or going. The months are given in both English and Spanish as Kahlo was a native of Mexico. It is a 17-month planner so it will get a lot of great use for the days and weeks ahead.
A Beautiful Tote is the Perfect Frida Kahlo Gift For Women!
What lovely young lady doesn't enjoy receiving a new shoulder or tote bag, and this one delivers in all levels..it is designed beautifully with Kahlo's likeness and design printed on each side. There are 2 colors, and it has a couple of inner pockets for which to store those extras that are easily lost.
Akitai Young Frida Kahlo Red Print Black Canvas Backpack Purse- Women Gift Ideas

Akitai Young Frida Kahlo Black Canvas Pailsey Print Triangle Tote Bag Women Purse

Canvas Frida Cotton Tote Market Bag Silk Screened 16 SQ inch Folk Art Mexico

All of these tote bags have vibrant, bold color patterns that will make the owner stand out, coming or going!I also saw different styles, like crossbody, small backpack and hobo bag style too, all of them attention getting and bright.
Frida Jewelry
What could be more special than a pair of earrings sporting Frida's portrait and silhouette? Present this to a lucky fan today – get ready for the compliments! And let's not forget that this was made specially by a handmade artisan so it's unlikely there is anything else like it anywhere else!
Mia Jewel Shop Frida Kahlo Famous Artist Round Silver Dangle Earrings

Mia Jewel Shop Frida Kahlo Famous Artist Portrait Dangle Earrings

Frida Kahlo Portrait Dictionary Page Art Print Necklace

The necklace on the right is unique in that it's a tiny portrait on a book page…a style that's getting a lot of attention now. When your recipient puts one of these on she's going to make a real statement at the next big art gallery or showing!
Frida Art Shower Curtain
Shower curtains are getting a real art makeover these days and this one is unlike any I've ever seen with Frida's signature unibrow and silhouette surrounded by bold roses. It will definitely make a grand statement in your bathroom alongside any other treasures you may have. All the hooks are included.
Asoco Shower Curtain,Frida Kahlo Polyester

Aquarius Frida Kahlo Gen 2 Fun Box, Multicolor, 8

Trinket Box
Evoke fond memories of the classic school lunchbox….this one is great to put your jewelry or trinkets in, or even just to set in your curio for display purposes.
It's a metal box just like they made back in the day, complete with a latch, carrying handle, and with Frida's portrait likeness and a colorful array of flowers.
Frida's Frocks and Smocks Magnetic Dress Up Doll Play Set

Magnetic Frida Dress-Up Play Set
Remember the blissful days of playing with paper dolls way back when? Well they get a modern makeover with magnets in this multi-wardrobe set…Mix and match Frida and her different outfits and pair her up with a myriad of accessories included…go wild as the possibilities are endless.
Kids and adults alike will have fun with this, you can stick your finished fashion creation on the refrigerator , filing cabinet, or any other thing with a magnetic surface to inspire and brighten your day.
Pillowcase Covers
Last but not least, don't forget the living room…give your sofa cushions a makeover with these beautiful pillow covers. Most certain to bring a splash of color to your environment. Each of these shown below are 18″ square and sporting a stunning likeness of Frida.
4 Frida Kahlo Self-Portrait Cotton Linen Throw Pillow Case Car Cushion Cover

Set of 2 Decorative Throw Pillow Covers Throw Pillow Case 18 x 18″ Cushion Cover

Well, I think we nailed it….I always did like her art and enjoyed reading up on her own life ; it is amazing how some artists from the past can become larger than life now. The gift items I found were all inspired by folk art traditions and celebrations. Hopefully if someone you know is celebrating one of these items will definitely make her day!
==>> See more Frida Kahlo gift ideas