THIS POST MAY CONTAIN AFFILIATE LINKS AT NO EXTRA COST TO YOU.
Hey all…welcome to my newest gift guide! We're talking about finding great gifts for men who are all into gardening. Could that be your husband, boyfriend, son or brother? Gardening is a hobby (and sometimes livelihood) shared equally by men as well as women so we need to take the guys into account too.
Plus let's not forget that Father's Day is coming up, maybe your dad is a master horticulturist that lives by the shovel, dies by the shovel. As my boyfriend is one of these special people, I feel qualified to clue you in on what they would love to receive on the next upcoming holiday, including their birthday, your anniversary, or Christmas.
Let's start with funny gifts, shall we? Most gardeners have a sense of humor and it's a good starting point when you are selecting for a great gift. T-shirts, coffee mugs and keychains sporting funny puns or play-on-words messages sure to tickle the funnybone or get some kind of conversation started.
Funny Gardener Gifts -Tshirts
Zazzle is an excellent place to go for gifts such as these as all the designs are handmade by small business artisans and they are customizable,too, if you like a design you could request it be printed on the object of your choice, which includes not just tshirts but mugs, tumblers, stationary, and more! Sometimes they offer special coupon codes for first time shoppers so be sure to check around first.
Here are a few examples of funny pun tshirts….I'd say the funniest is that one on the left.
Check Out My Six Pack Garden Funny Gardening T-Shirt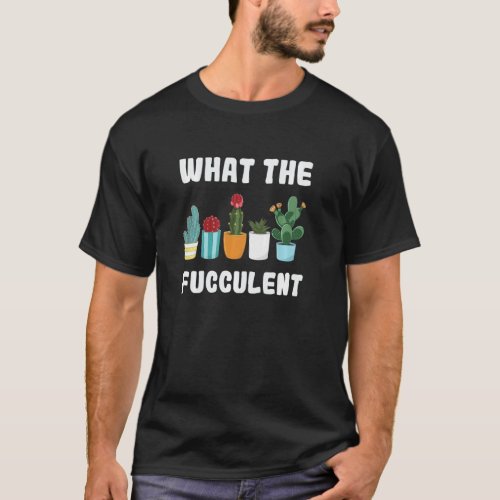 Funny What The Fucculent Cactus Gardening Pun T-Shirt

I'd Propagate That Plant Gardener T-Shirt

And mugs, too…
…so he can enjoy his coffee or tea, you don't want to forget mugs as they are always a hit. I have always had mugs in my Etsy shop that I did designs for and one that I did that sold well read "I get so excited about gardening I wet my plants". Now who do you know that wouldn't get a kick out of that. I forgot to relist that one but I may recreate it. See if lightening will strike twice.
Don't forget the different styles of mugs too, like the tumbler,, travel style design, and the transparent style with a straw that would be perfect for iced coffee. All ideal for those with on the go lifestyles.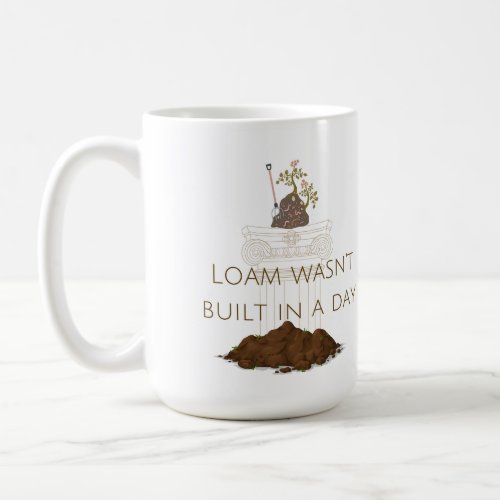 Loam wasn't built in a day coffee mug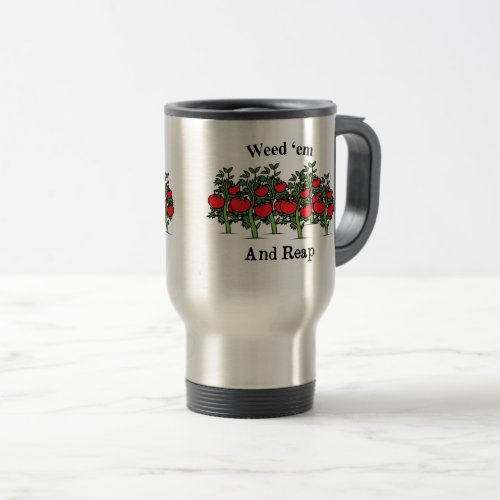 Gardener Funny Weed 'em And Reap Travel Mug

I will be in my office Garden Acrylic Tumbler

Serious gifts for male gardeners include….well, lots of tools and gadgets, although he may have his share of these, is there something you've seen that he'd really find useful? Like…
A New Pair of Gloves
Men's ReliefGrip Gardening Premium Leather Gloves (Large)

There are lots of gloves for gardeners on the market today – it can get overwhelming. For protective covering that will flex, fit great and stand up to whatever you need, this is the pair to get. The ergonomic design was developed by a orthopedic surgeon.
This unique design not seen anywhere else includes patented "relief pads" promote better movement to certain areas of the hand. On the inside are terry cloth coverings so you've got a breathable fit and not get sweaty. Comes in four different sizes, so you'll be sure to get a literal fit like a glove as the saying goes.
A must have for the male gardener in your life, you may even want a pair for yourself, I totally get why there are so many five star reviews!
This Multipurpose Garden Seat is a Must Have…
As anyone who has spent long hours in the garden knows, sometimes it's a pain. No doubt your garden loving spouse or relative could use a helping hand That's where this unique combination seater/kneeler comes in.With ergonomic design and multiple functions, it doubles as a kneeler that if you flip it over, doubles as a bench too! In addition it also comes with a tool pouch that attaches to one end with velcro., so no looking far and wide for the spade or knife!
It's ideal for those who may suffer from back pain, stiffness, etc., but anyone who spends long hours in the yard will benefit from having something like this to alleviate discomfort and strain from garden chores.
And what's more, the whole thing can be fully collapsed, so you can stow it anywhere during off-season and set it up in minutes when it's time to get started on those ever pressing duties! Most gardening guys will LOVE having something like this, and wonder how they lived without it.
Garden Utility Cart
YSSOA Rolling Collapsible Garden Cart

Now, I can't think of any gardener who hasn't had his hands full with "stuff" he's carrying back and forth, be it tools, small plants ready to be set out, you name it. What better way to help make things easier than gifting the gardener in your life with this sturdy garden cart?
It has a max capacity of 220 pounds(so it's probably not going to hold all those bags of soil…a few, maybe!) but it will keep all those plants, seeds, tools, trimmers and shears in easy reach and all he has to do is pull it along for the next bed or row. The wheels have swivel design so they should nave no trouble bending around the wallkways. And did I mention it's collapsible, so when it's off-season it can be easily stored away in the shed, of course it will have lots of other uses too.
All that being said, a handy pull cart like this is a great tool, and he's sure to love towing all that stuff in this bad boy.
Gardener Gift Baskets
When I search "gardener gifts for men" on Etsy, I find a total results amount of 70K…Wow! Isn't that mind blowing? With so many options, how do you choose one thing that's just right for the occasion? Let's not forget about a classic that never goes out of style….gift baskets. Cliche, but true. A carefully arranged package filled with a grab bag of items is going to be so much appreciated!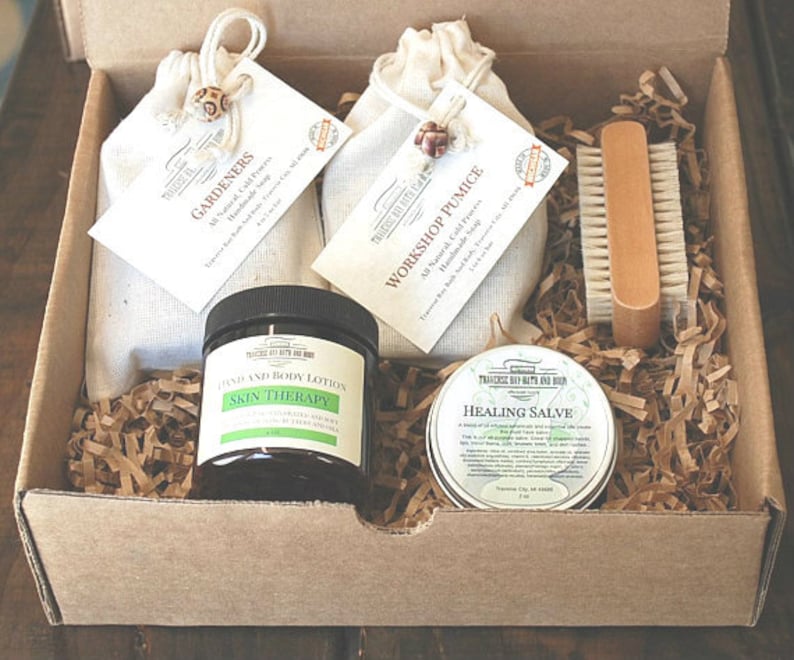 Botanical Gift Set for Men – Includes Lotion, Soap and More!
This one I chose below is special because it contains a collection of all natural products for healing and relaxation: two 5-oz bars of botanical soap, container of lotion,salve tin and natural boar's hair nail brush. Never forget the gardener in your life could always use some self-care and this set by TraversebaySoapCo certainly will deliver.
Anyone who's spent long hours in the backyard knows that dirty nails are a fact of life and a nail brush is a must have. You can't beat natural handmade soap and botanical-developed lotions for pampering and reinvigorating skin that's been exposed to a lot of hard labor outside (as a gardener, he will love that it's made from all these herbs and essential oils!)
A Genuine Hori Hori Knife…
Have you ever heard of a Hori Hori knife? And I'll bet the man in your life doesn't have one of these…maybe. These beauties were developed in Japan in the late 1800s for multipurpose garden functions: think pruning Bonsai trees. These elegant knives are a cultivar's best friend with their uniquely handcrafted blades that can cut, prune, mark spots for seedlings and uprooting.
The ingenious design of the blade features incremental measurements on one side, serated edges for trimming and a curved tip. It's handcrafted of wood for the handle with a protective tang that won't slip and also includes a sharpening stone and protective leather sheath for safekeeping. This is one tool no male gardener should be without, as it will provide so much great use for years to come.
Thank you for reading, which of these did you like the most?