Handmade blank cards with envelopes are great to have on hand when an occasion comes up other than one of the card-sharing "biggie" seasons, like Christmas –  and you want to express  authentic sentiments.
Housewarmings, weddings and graduations …all of which are great examples of events that may pop up at a moment's notice and you'll want to have a nice set of cards nearby  at the ready for you to fill in with a heartwarming message of your choosing, with decor on the outside that would suit it universally.
Because of their organic makeup, the cards I have found have natural imperfections like flecks of wood fibers or bark, which add to their rustic appeal. They are made from different types of paper, with a different procedure altogether. Take a look at what I have discovered for your next card-sharing occasion here:

Handmade Flower Ornament Blank Card Set

I love these rustic looking kraft cards – this charming set includes envelopes you can fold into place, jute cord ties and stickers. In addition there are 10 different flower types that you can apply to the front of the card, or to the outer envelope if including with a gift, such as at a party.
Use the cord, or stickers, or both to secure the flowers any way you prefer, the recipient will really appreciate this as a finishing touch!

Handmade All Occasion Dried Flower Card Set

This set is similar except that it comes in two different sizes. A great choice for personal as well as professional use!

Elephant Print Card Set Handmade From Lotka Paper

This card and envelope set adorned with elephant print on the front is just adorable! If you look carefully you'll see that the elephant pattern is gold toned. It is handmade in Nepal from an ancient tradition using lotka paper which has high sustainability.
Not to mention that the culture views elephants as symbols of good luck! This company also makes a set with peacocks too and these pretty metallic gold tone ferns which you may also enjoy.

Goldtone Fern Print Handmade Blank Card and Envelope Set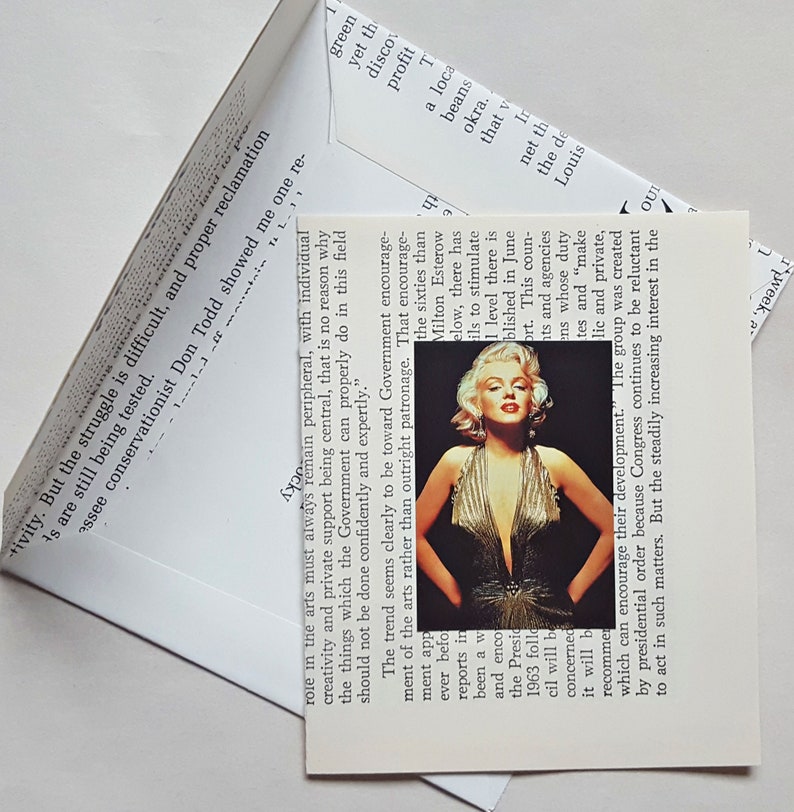 Set of 10 Stars Blank Handmade Cards

Now here's a unique set of cards….check out these from the WillandWorkshop , an Etsy seller….this set of blank cards is made from actual book pages – which is a great commitment to recycling and upcycling! There are 10 cards in all each one sporting a different celebrity. A must-have for the movie buff.