A handmade clay wall hanging for your living room or studio is always a good idea – the right decorative piece is ideal if you've got that spot above the hallway that could use some adornment or prettying up.
Sometimes small spaces are the hardest to adorn because a full-on painting is too big…and you don't want to just stick another family photo there…so…how about something that will look great alongside those other paintings, fit in a small space, and sure to be a conversation starter?
I've always been a fan of ceramic wall hangings for that reason. I used to make them for friends and relatives as gifts and keepsakes. They are ideal for those places where nothing else seems to fit. Three-dimensional artwork has a way of creating beauty and esthetics like nothing else-if you pick the right piece, that is. If you're looking for something one of a kind and made with love look no further than some of these mini-masterpieces I've found.
Handmade Polymer Clay Wall Hanging
If you need a special keepsake to give a very special person, look no further than this beautiful hand-crafted clay wall hanging – it's made from the very versatile clay I espouse a great deal in multiple color shades. This design is known as the "Hamsa Hand" which according to legend helps ward off the "evil eye". You may have seen these represented; I used to have a pendant like that once.
Handmade Polymer Clay Wall Hanging

Hamsa Hand Purple Decorative Wall Hanging

The artist who makes these is a native of Jerusalem and if you look carefully you can see the engravings which translate to Health and Happiness. Her work is not only beautiful its one of a kind too.
She makes this design in three different sizes (all measurements are given on page) so you can get an idea of which will fit your proposed space better. 
Clay Wall Hangings with Inspirational Sayings
Sometimes all you need is simple and sweet! These charming decorative wall hangings have inspirational words and phrases etched into them. Each piece, too, is one of a kind! The lovely hummingbird and flower etching along the side makes for a beautiful finishing touch.
Believe in Yourself Purple Lotus Flower Clay Art Inspirational Pottery Wall Hanging

Red Namaste Lotus Flower Sign, Handmade Clay Art Wall Hanging Home Decor

Just as a fyi the pictures shown are "stock images"-what you receive may vary slightly from what you see above since each wall decoration is made by hand (using traditional kiln fired clay) and will have natural imperfections.
This would be perfect to dress up your art or yoga studio, office or other room you frequent. They all have a hemp cord used for hanging which gives them a nice earthy touch. Order one today and make your room your happy place!
Ceramic Wall Hanging Plate
If you're looking for a wall decoration that can also double as a standalone object d'arte, look no further than this beautiful plate I found. It's a one of a kind piece from hand thrown clay, glazed and fired-the whole nine yards. You not only will have a splash of color added to your home but it can also be used as a serving platter too!
Makes a great conversation piece all on its own especially if your taste leans towards the rich and vibrant looking.
Wall Hanging Pottery Decor, Anniversary gift, Ceramic Platter

Wall Hangings From Polymer Clay
Polymer clay is another great material used in beautiful and unique wall decor.  Recently I came across this beauty from the shop Clayonstring. This one decorative piece below is amazing to look at….a bouquet of flowers set off by leaves, with a nice two dimensional look. The seller did not give the details on the dimensions so I have no idea how big it is. But I would love to hang something like this in my home.
This seller also has lots of jewelry and lots of positive reviews so you may be able to inquire first.
And last but not least…these one of a kind wall decor statement pieces are amazing! I especially like the color combinations.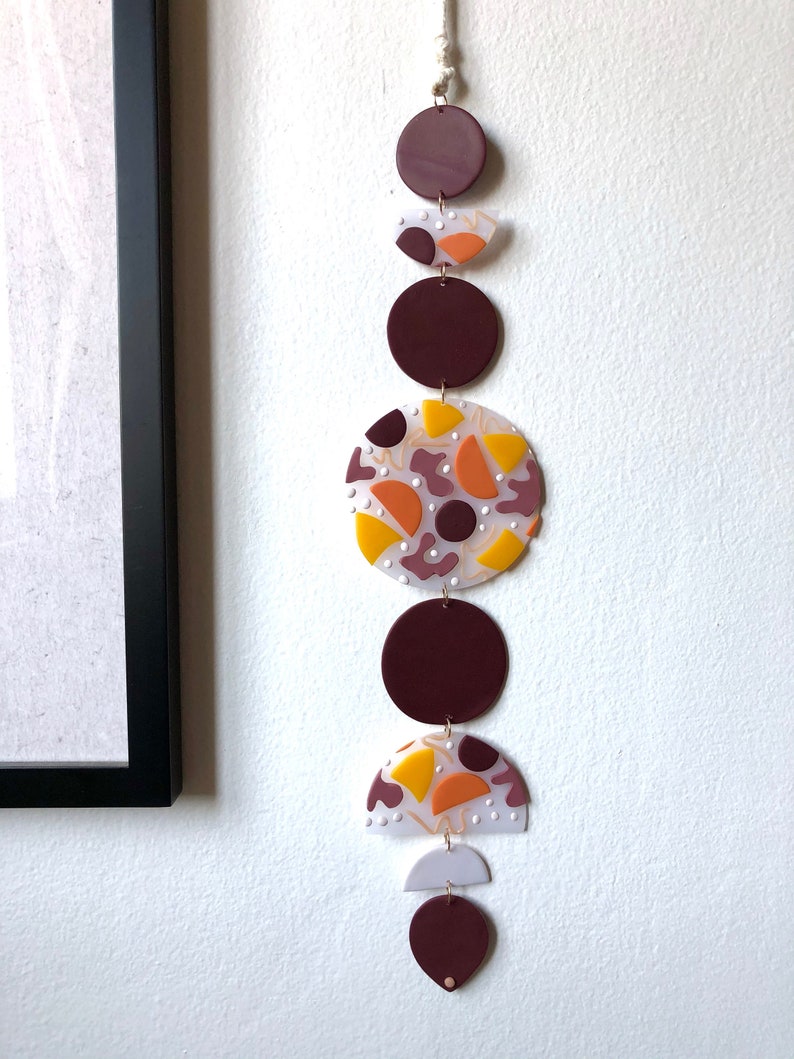 Boho Abstract Clay Wall Hanging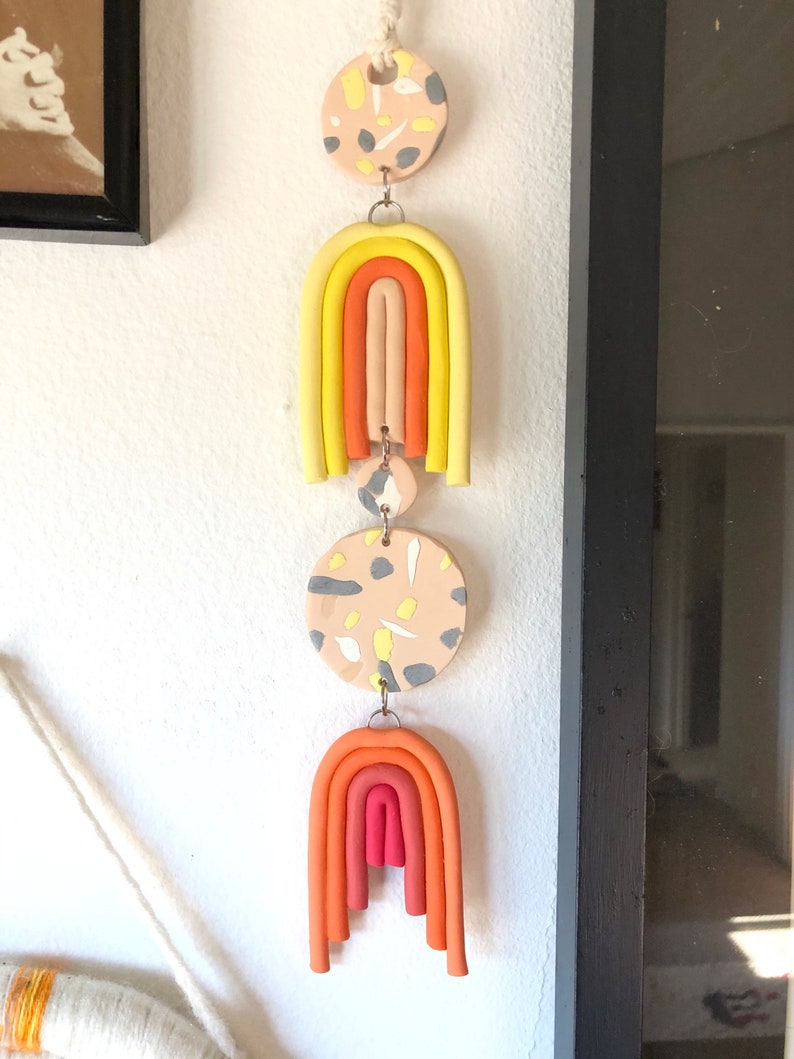 Rainbow Abstract Wall Hanging

What did you think of these? Don't forget to check around for more original clay decor pieces too, especially since all the above artists may have custom designs too.