A handmade crystal artist ink pen makes a dynamite gift – it's ideal for someone who loves to draw, a calligraphy artist, or just someone who can appreciate the fine nuances of blown glass. Years ago I used to attend the GA Renaissance Festival over in Fairburn, and one of my favorite booths was that of the glass art vendor.
Not to mention there was also a glass blowing demonstration for the public to watch. It's amazing what can transpire under all that heat! I'm unsure if I ever saw any pens for sale there (maybe I missed those?)  but I have always been enamored with glass for its beauty and transparency. Not to mention being fragile.
Pin Me, Friend!
These pens are also known as "glass dip pens" and are similar to the fountain pen approach -they have a nib that does the writing/drawing part, that you dip into a well, much like the fountain pens you may remember from a long-ago era. Theses I found, work on that principle, and are made from blown glass . Can you say, Fabulous!
Just remember, take very good care of these beauties…after all, they are GLASS!
Handmade Glass Signature Dip Pen
This pen is as exquisite as it is functional in both writing and drawing. It's like a brilliant marriage of quaint and modern – the elegant look of a glass dip pen with the addition of beautiful shimmering metallic inks all infused with gold powder – so you can be sure you resulting work will be magical, too!
The pen itself is constructed from fine borosilicate glass which is the same kind of material used for those hourglass-shaped coffee drippers – heat resistant and less fragile so you can use with confidence.
The spiral design of the pen nib ensures a smooth inking experience – it also includes a cute little dappen dish for dispensing the included inks and distributing. Consumers have said that most conventional drawing paper types take the ink well, especially hot-pressed.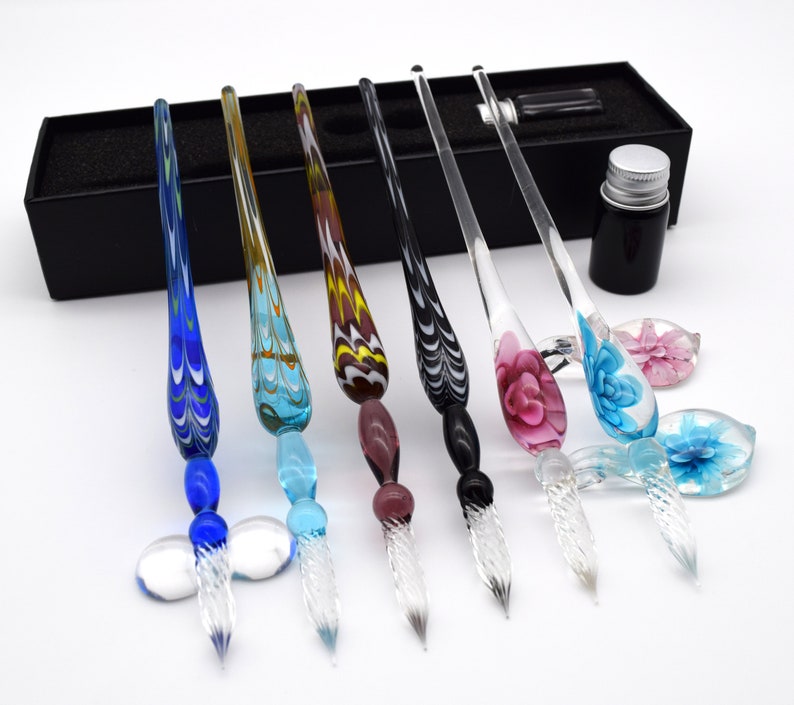 Handmade Murano Glass Dipped Pen Set

Want to give a gift that will last a lifetime? Surprise him or her with this elegant pen set above! It is handmade by the shop Pendoora. It's a real masterpiece with Murano glass in 6 different colors. There is also an ink bottle and pen rest included. The glass is borosilicate like the one above, which can withstand high temps.
Each pen is about 7″ in length and the nibs have been double polished to make writing go like silk on glass. And it comes in an elegant black gift box.
Have a thing for the flamboyant? Also by Pendoora, there are another series of these pens in floral accents – the last two on the right, have the addition of little petal and branch adornments.  The pink and blue versions have the flower design built in near the tip. Choose one of these four as they all come with their own holder and bottle of ink.
Get a little taste of Italy in this set above – This pen above is sold by ArcaneObjects. It embodies the beautiful Venetian art glass with all the many different colors. There are different colors: red, green, yellow/red, and black. They are real hand blown glass not borosilicate. The ink bottle is sold separately in the vendor's shop. Each pen is 7.5″ in length.it's made with Venetian design all the way around.
Mancola Glass Dipped Pen Ink Set-Rainbow Crystal Pen with 12 Colorful Inks

And I just may have saved the best for last….well, the best as in "couldn't pass this up" as it not only comes with a holder and well it's got a whole dozen different color inks! Talk about an artist's dream. Lucky you, this elegant beauty has got a rainbow color too! Pen is borosilicate glass. Gold powdered water soluble ink will let you take your calligraphy skills to a whole new level.
Tips For Using Glass Dip Pens
Here are a few important pointers to keep in mind when using – or if you are gifting, be sure to pass along!
Hold the pen at an angle and use light pressure
To change ink color, dip the nib in water so it isn't discolored by the last one.
Dip the nib in ink and gently rub against the inkwell to remove excess which could leave ink blobs on your paper.
You may get an average of 40 words in before needing to dip into the ink again.
When using glass pens, use light pressure and don't forget to 'dip the nib' when changing color!
Click To Tweet
So if someone on your list has a wide collection of drawing pens, surprise him or her with one of these – it's truly the "write" idea!