This post may contain affiliate links for products I recommend. If you make a purchase via one of the links I may receive a commission. This does not affect the price you would pay
Handmade diamond painting pens make great gifts for someone who loves practicing the art as well as having your very own unique stylus to use in place of the ordinary one you may get with one of your kits.
With the interest in diamond painting sets on the rise, it's the icing on the cake to be able to find a unique pen to compliment what you are doing.
If you spend long hours devoted to your craft arranging the gems for complex pictures you will be pleased to know that some of these pens are also developed to accommodate the legwork from your hands and fingers. Having a unique pen that is also designed ergonomically to relieve the stress from your hands is a real win-win!
So if it's a need for something easier on the hands, or someone else you know who is a diamond art addict, take a look at some of these beauties I have found!
Hand Carved Handmade Wooden Diamond Painting Pens
These are all in different animal shapes….birds, flamingos, owls, dolphins…so cute!
I immediately stopped when I found these unique pens that are hand-carved in the handles shaped like different animals. Just adorable – and they will accommodate square and round drills equally well. They also include placers which make placing one-color drill rows easier, as well as spacers.
5D Diamond Painting Wooden Drill Pen with placers – Owl

Diamond 5D Painting Wooden Drill Pen with placers – Dolphin

5D Diamond Painting Wooden Drill Pen with placers – Bird

The bird on the far right is my favorite – which one is yours? If you check out one of the listings you will also find more different critters than these too.

DIY Diamond Painting Tools Handmade Diamond Cross Stitch Set

Handmade Pen and Accessories Set
This pen includes a bonus round of accessories to keep you at the top of your game – including wax, trays for picking up your diamonds and spacer attachments to make adhering rows of same-color diamonds a breeze.
There are three different sized spacers and will attach to the other end of your pens. This would make a great set to travel with and having all the important tools at your fingertips.
Large Designer Handmade Pen
These are the next most unique pens I have seen. Made by Craftology, these flamboyant pens have  rotating head which helps to control the removing and adding of new tips, and they work with round and square diamonds. The eclectic designs are eye-catching and bold.
HomeCraftology 2pcs 5D Diamond Painting Drill Pen Tools

Diamond Painting Point Drill Pen, Diamond Painting Tools

New Design Cute Drill Pens, Sticky Pens with Diamond (Pink+Modena)

Their large diameters are ergonomically shaped to take some of the strain off of your hands while you work; plus they are lightweight enough to maintain. Not to mention with these snazzy colors and patterns, you won't want to put them down!
Glittery Handmade Pens Custom Made
If you're looking for a specialty diamond pen, look no further, I have discovered quite the type for you, you can have your own pen custom designed by Jim'sHandmadePenShop!
All of them are beautiful from the pictures up close and inspired by the Disney princess characters, what better way to keep going with your work that using a pen like this to attach gems?
They are crafted from a material called alumilite by hand via an instrument called a lathe, and include its own stand which you can see in the picture to the left, and spare tips and spacers. Just beautiful!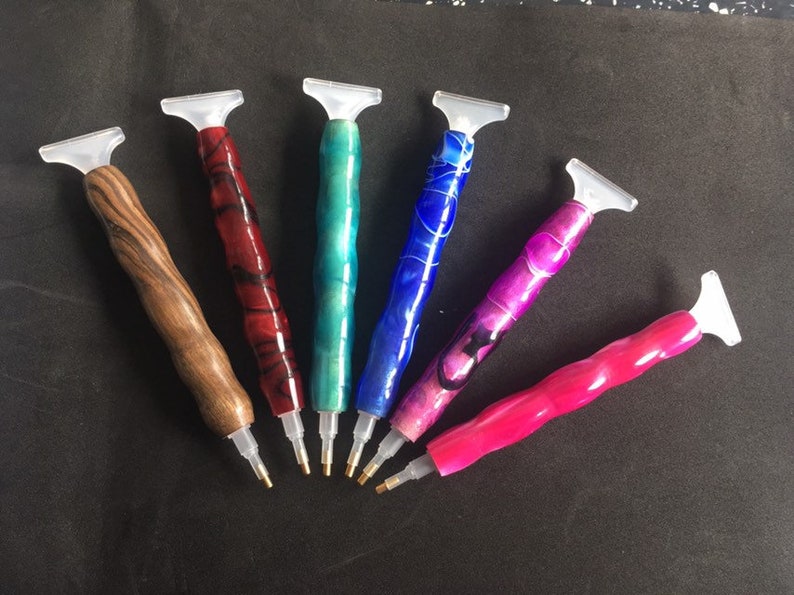 Handturned Diamond Painting Pens

Handturned Handmade Diamond Pens
Here's yet another set for your consideration; these pens are designed by the shop Jayshandturnedgifts. Different acrylic pens, also custom made, include these lovely swirly/pearlescent patterns, wooden, and 6 different colors.
If you visit his listing you will find even more color options than these shown. According tot the shop owner, they are hand-turned on a lathe, and include extra tips and spacers. It looked like customers were very happy with them!
Truly a unique gift that will be treasured for years to come.
Hope you enjoyed this lineup of beautiful handmade diamond painting pens I have discovered! ✒️ Which one of these were YOUR favorites?