These handmade earrings made with quilling paper are perfect to make a statement – they are the ideal combination of bohemian and classy, and wearing a set like these will definitely get you noticed in an eclectic setting. The art of quilling is no longer relegated to one and two -dimensional pieces – now you can wear it, too!
The unique pieces I found below are all made from acid-free paper so you can be assured of their longevity. They have also been coated with varnish to preserve them. I've been thinking about making something like this for awhile (I just happened to run out of glue at an unfortunate time…😞)
I personally love the intricacy and uniqueness of each earring set thee are some I would be proud to wear.  So if you are in the market for a special gift that's one of a kind I think you will enjoy what I have here!
Handmade Earrings Made From Quilled Magazine Paper
Leaf Shape Quilled Paper Earrings Made From Magazine Paper

Handmade Quilled Earrings in Flower Shape

These sets above caught my eye right away – they are made from paper strips cut from magazines – what an awesome way to upcycle, dontcha think?  What I find amazing is how you can easily see the different colors …you would never assume  this was recycled paper.
Each set is one of a kind and the artisan seller has several different shapes available in addition to these two above.
Quilled Paper Leaf Shape Dangle Earring Set
Paper Quilled Dangling Earrings Handmade

These beauties above will definitely make you a show stopper – in addition, they have leverbacks instead of the classic French hook, and they are my favorite style because the back clasp thingy holds in place snugly. (You can tell I take pride in my earring collection!)
Check out all the teeny coils that give this set such an intricate look, I'll bet it took awhile to make these; and the little bead dangle at the top gives these real panache. The perfect earring set for a bold, dramatic look for social events.
Handmade Blue Paper Filigree Heart Dangle Earrings, Quilled Jewelry

Fashion Heart Shape Dangle Quilled Earrings
Perfect for the girl or woman who has a flair for the dramatic. This set above is made of blue paper filigree with intricate little coil details – they're flamboyant looking but not to the point your earlobes will droop (after all, paper is lightweight) I would definitely wear these!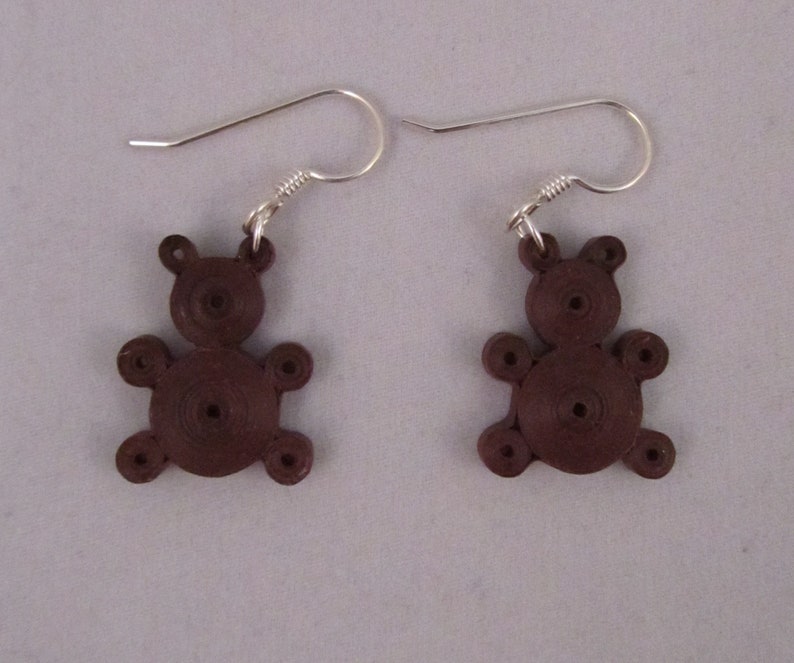 Quilled Paper Teddy Bear Earrings

Check out this adorable teddy bear earrings set by TheQuirkyQuiller – TOO cute! This seller did a bang-up job with all those perfectly round tight coils…and she's got other cute designs to look at, too. I didn't see for sure if she had a "accepts custom orders" option but you could certainly inquire 🙂
Handmade Quilled Dangle Earrings With Beads
Handcrafted Paper Quilling Leaf Lightweight Earrings,Shades of Purple

Handcrafted Paper Quilling Leaf Lightweight Earrings, Shades of Red

For a look of simple elegance, these dangle teardrop earrings adorned with single beads would be a great fit. I personally love the ombre color effect with different shades of color, it makes them very unique and interesting to look at. They are also fairly lightweight so your earlobes shouldn't feel weighed down.
Hope you enjoyed a little taste of the artform of paper in jewelry? You're bound to get noticed wearing one of these, and most people may have no idea these earring sets were made from paper.