THIS POST MAY CONTAIN AFFILIATE LINKS AT NO EXTRA COST TO YOU.
Have you thought about stating a miniature fairy garden? If you ever got into dollhouses and miniatures you probably thought that was the bomb diggity. Fairy gardens are the nature-inspired version of dollhouses and dioramas. A brilliant marriage of fun and magic for hobbyists of all ages!
Are you wanting to set up your very own miniature fairy garden or have one…but you want the most unique looking accessories to complete the theme? Look no further. I don't know when fairy gardens became all the rage…but they are still going strong – second only to terrariums.
Many gardeners think "go big or go home" but some of us may think small – which is great. If you're short on space but not creativity, this is the ideal conversation piece for your home. All you need is a medium or large single planter (preferably a wider one ) to allow for more decor pieces. They also involve plants, of course…succulents are the most popular choice as they don't need much water and don't need much upkeep, plus many do well in low light conditions, meaning you can set up your fairy garden anywhere in the home.
As far as the accessories themselves go….let's just say there's every persuasion, holiday and scene imaginable. The important thing is not all of them are carefully handcrafted like these.
Kids and adults alike will love this! If you've thought about starting your first fairy garden now is the time. 
As far as ideas go for setting up your mini garden? The possibilities are endless! But to get you started, here is a list of the most popular….
Forest scene
Beach
Christmas village
Halloween
Going camping
Farm scene
I love these I found from a handmade seller – they're all made out of my favorite modeling compound -yep, polymer clay, as well as wire for stability and shape. Here is a lantern, hanging floral basket, and little tiny birdfeeders. Look carefully at the baskets on the right -they're actually made out of the caps of acorns!
Perfect for your nature set up so those little mythical creatures can have a fun place to tend to their "backyard". Little dainty objects like these would look great alongside larger objects like floral bouquets, bridges or walkways.
Fairy Garden Miniature Bird Feeders. Set of 2 Pink Fairy Garden Accessories.

Fairy garden accessories. Miniature acorn planters. Set of 2. Autumn color flower baskets.

They're from a small business owner so if you want to #supportsmall, good on you!
Holiday Fairy Garden Decor
Another cool thing you can do with your fairy garden is switch the decorations for different holidays and seasons.  Whether Easter, Valentine's Day, Halloween or Christmas, turn your little magical creature microcosm into  a winter wonderland or spooky haunted house scene  with objects that fit the theme.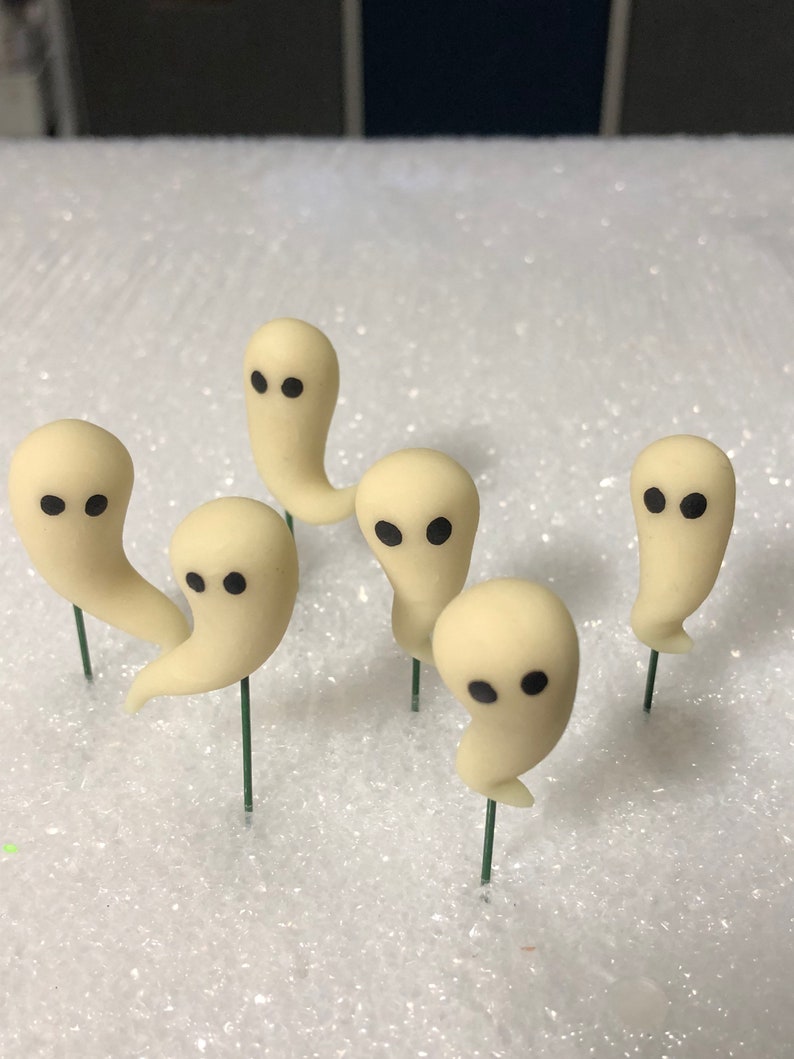 Set of 6 Mini Fairy Garden Halloween Ghosts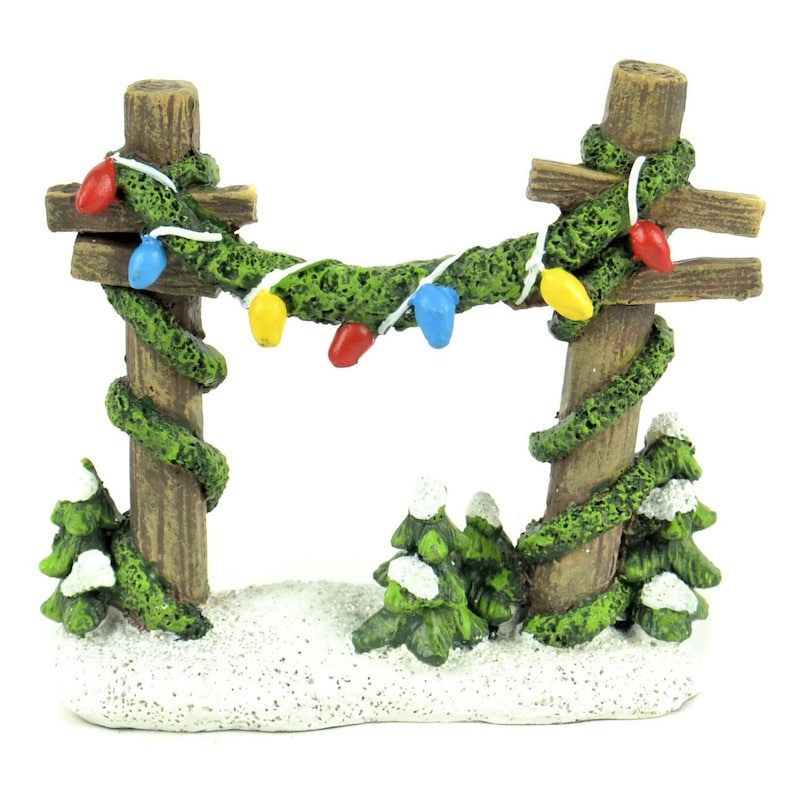 Mini Christmas Village Fairy Garden Decoration

The little mini ghosts above glow in the dark – you can prolong the effect with black light – either way you'll have a great spooky touch for your Halloween scene. The Christmas arch is very befitting of a Santa's workshop  where all the little elves are doing their thing.
Handmade Fairy Garden Decor From Multi-Materials
Here are a couple that I found of some garden decor pieces that are made from a myriad of materials – not just polymer clay, but peat moss, too…for an authentic look that's equally magical, look no further than this sparkling pond and to the right crystal accent piece. Either (or both!) will add a special touch to your mini garden or terrarium setup.
The "water" gets its sparkle from a little glitter there are several different variations of the design and sizes available too. Pair it alongside a bridge, small house, pebbles or bouquets to complete the scene.
Shop with confidence, as each one of a kind piece is OKed for outdoor use (but shadier areas are recommended) given a special protective coating.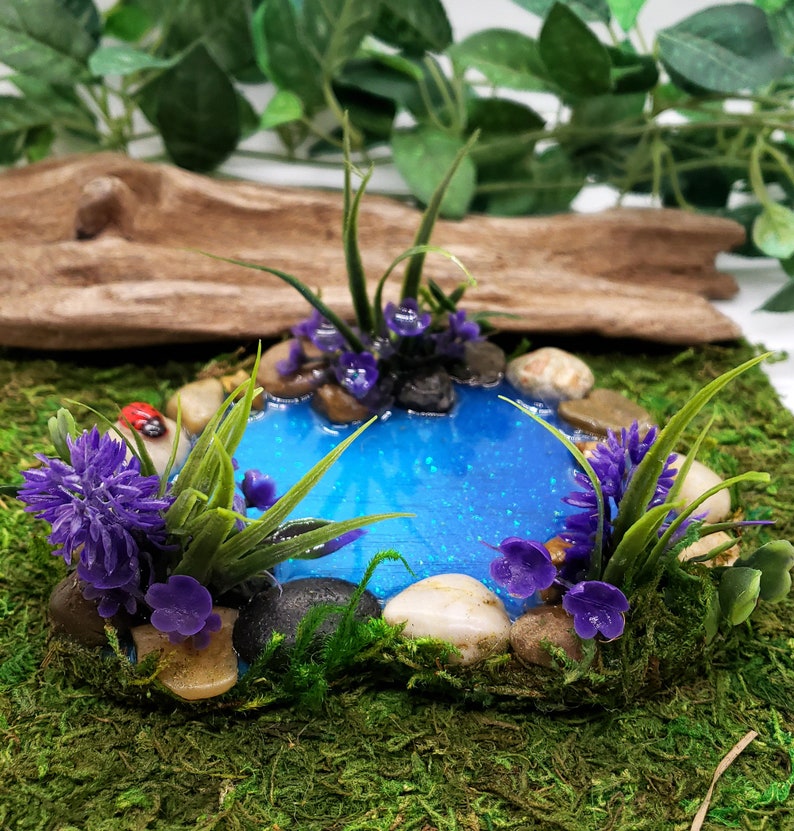 Mini Decorative Pond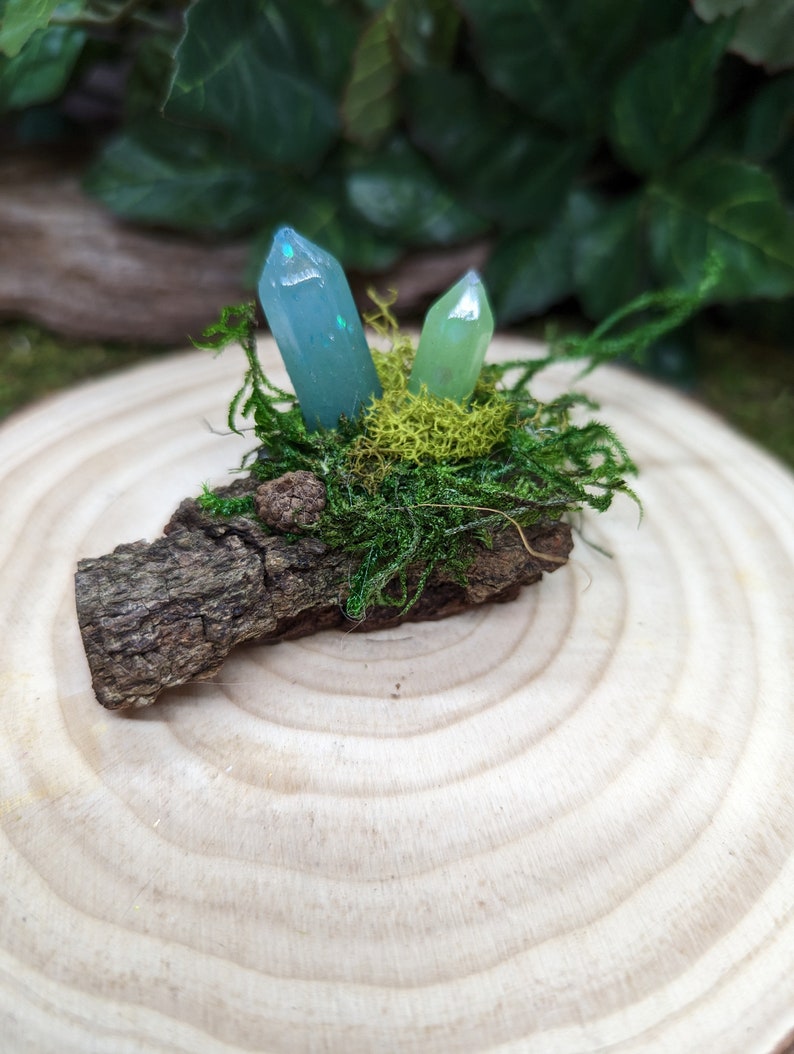 Crystal Rock Centerpiece


Looking for something a little rustic as far as mini garden decor goes? Well nothing is more rustic than natural wood.
Check out this adorable campsite set below by WoodStoneCreations – made entirely out of sourced wood.Every touch is refined down to the marshmallows on the skewer. Too cute! There is a fire pit, seat, bench, chopping block and axe and fire pit. All are done in scale but the crafter/owner (Robert) can do a custom scale size at you request. Just convo him for the details 🙂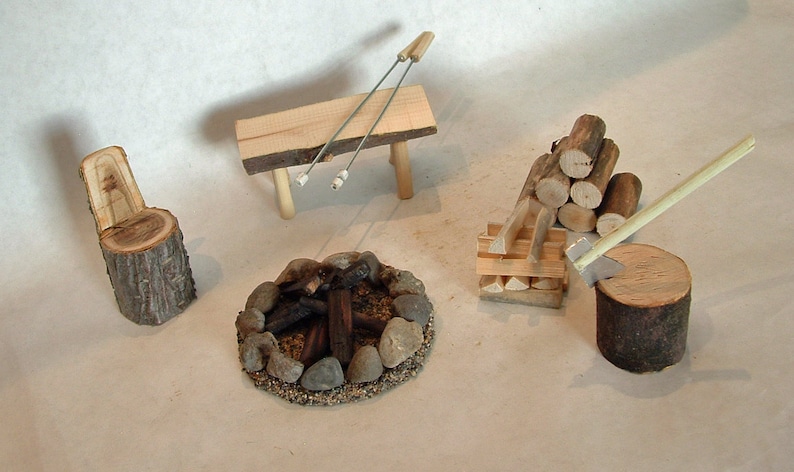 Rustic Campsite Miniature Garden Set

Well it looks like the fairy garden trend is here to stay. Which is great…and remember you can always change your theme, every holiday you can come up with a new setup and switch to another when the mood hits.