Handmade guitar pick necklaces make a thoughtful and lovely gift for your favorite guitarist, musician, or even fans of rock memorabilia. As the saying goes, "Big things come in small packages" a small object like a guitar pick can be transformed into a real work of art.
It can also be engraved with a name or personal message, that someone will treasure for a lifetime.
This topic was of interest to me as I collect lots of knick-knacks and going through them one day, I found a few guitar picks  and decided to re-purpose them. It was easy to make a pendant from one of the individual picks.
Pin Me?🎸
I just drilled a little hole and added some beads, pretty much the same way I made my coin pendant. If you're looking for a unique gift from a simple object like a guitar pick, let me show you what I've found!
Handmade Guitar Pick Necklace with Stainless Steel Chain

This one above is handmade and engraved with the heartfelt message "I'd Pick You Every Time". The seller also offers a similar one that reads "I'll Always Pick You". It includes a 24″stainless steel ball chain that can be trimmed to get a better fit. A wonderful gift idea for birthdays or anniversaries.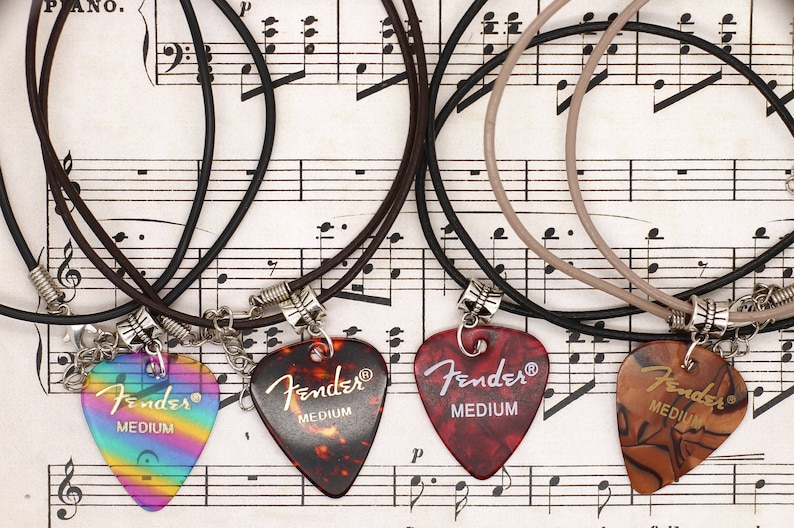 Customizable Genuine Fender Pick Necklace

I found the most unique guitar pick pendants on Etsy, and this one here is no exception. This shop, WantableDesigns, is based in the UK and specializes in all kinds of eclectic handmade jewelry including guitar related, like this really cool one here.
These are real picks with the logo on them, and a wide variety of colors and patterns are listed that you can choose from. There are also two different lengths of cords offered too – 18″ and 20″ if I'm not mistaken. Really nice!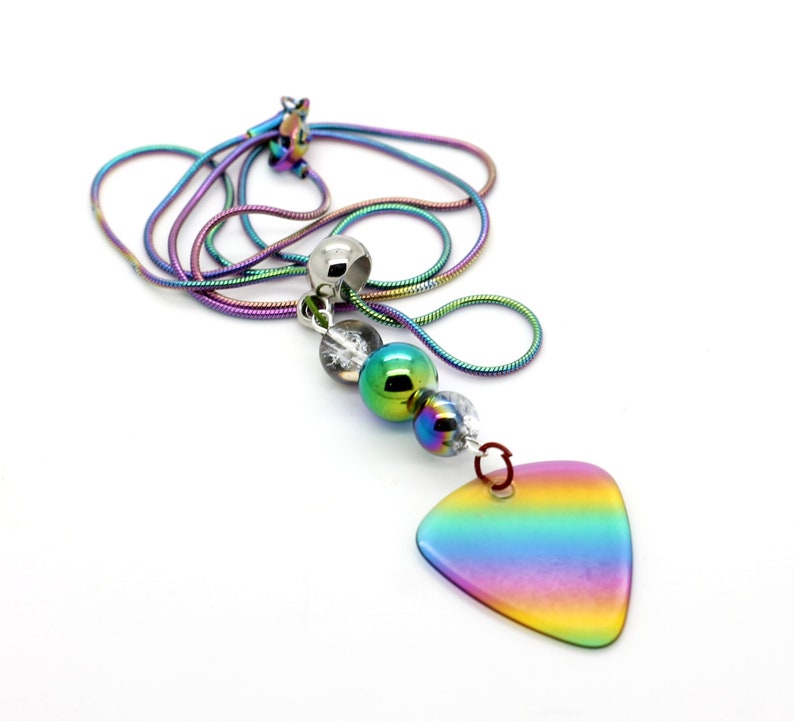 Rainbow Guitar Pick with Beaded Accents

Here's another one by the same shop; now this one is really special with the addition of beads and a 22″ chain that is also tinted with rainbow colors! As you know I love pretty much anything rainbow ombre colored, I would definitely wear something like this. This is also the best picture that showed the different colors of the chain in a good light.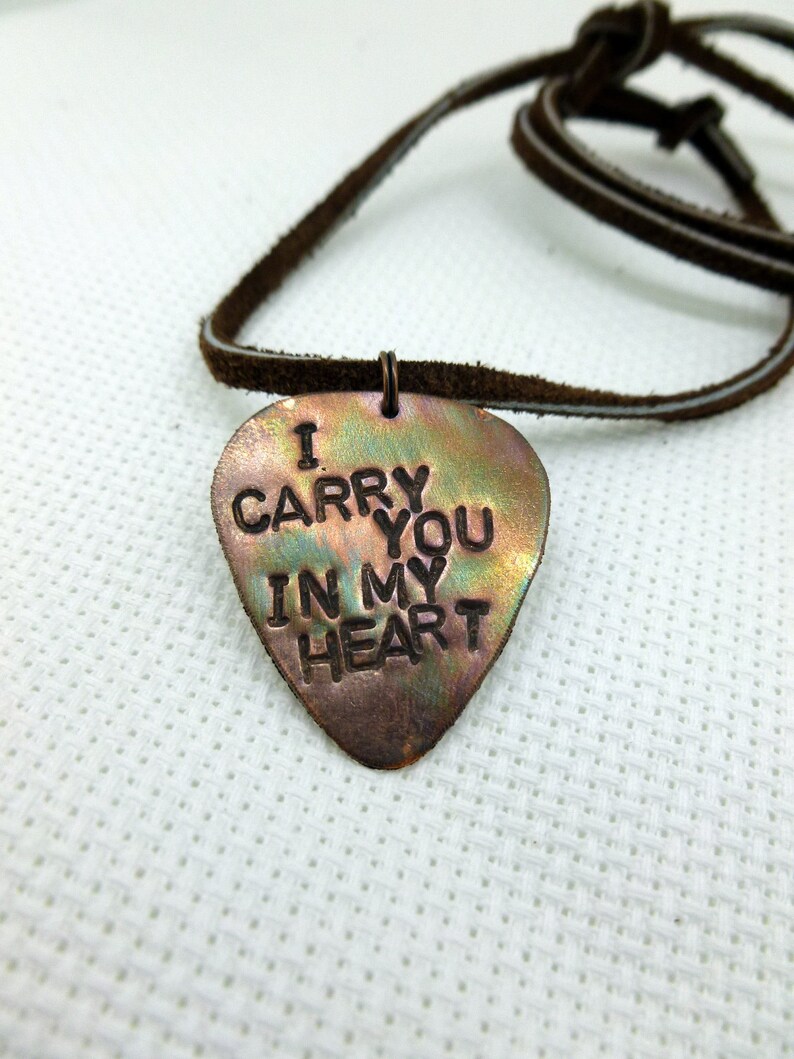 Personalized Guitar Pick Necklace

A necklace made with a leather cord is always a big hit with the younger set, this one I came across above is made by Snappinpicks – be sure to browse around; guitar pick jewelry is their bread and butter. This piece is made from bronze and can also be personalized, all of these pieces are hand stamped so no two are alike.
Now…Here's MY Pendants!🎸
Thought I would take this one step further and let you see a little more of my upcycled bling!
Now here is MY own handmade pendant! In case you're wondering how I got the picks in the first place?  Yes I did take a few lessons back in the day. Even though I was kinda on the fence about continuing…I ended up decorating the guitar instead with paint and bling (but that's another story…😁)
You can see the blinged-up guitar on my About page 😊🎸 .
I had three picks total…here are the other two. I have no idea the significance of the logo on front…but that one with "222"…this must be the really weird side of me talking, because I heard somewhere it's a sign of good luck to come across a number 3 times in a row….So I call this one my "good luck charm" and I wear it as such now:
Did you enjoy this selection? 🎸 I thought these were so cool…we hope you did too.