THIS POST MAY CONTAIN AFFILIATE LINKS AT NO EXTRA COST TO YOU.
Check out these adorable earrings….great gift ideas!
Hi all, lately I have been checking out many different handmade polymer clay earring sets after being intrigued by some offerings on Pinterest – this is such a cool little niche market!
There's no limit to the awesome stuff you can make from polymer clay and jewelry is no exception. I've found earrings shaped like different food items, flowers, little critters, Disney characters and much more, both in post and the dangling French hook style.
Depending on your comfort level one type may fit better than another, but one thing for sure these are such ideal gifts that will be a big hit for women and girls, especially teens and tweens who naturally gravitate towards jewelry with a sense of fun and whimsy.
Also, the realism on some of these – amazing! Truly works of art. Wait until you feast your eyes on what I've come across.
These Handmade Polymer Clay Food Earrings Look Good Enough to Eat!

(…But please don't😁😁)
Seriously, I'm drooling over those little slices of cheesecake, mmm! I found these made in ThePolymerCornerShop on Etsy. She's got everything from fudge cake to chocolate pretzels in mini clay form, so if you've got a sweet tooth, you'll love what's in store.
The seller also uses hypoallergenic materials including wire so you can shop with confidence.
Have you seen these little veggie clay handmade dangles by Kat's Magic Clay? – I love those dangly chili peppers…I'm growing them in my backyard so these were the first that grabbed my attention out of all her cute creations. They would look great wearing them to an event like Cinco de Mayo, etc. anything for an ensemble where you'd want to get into a party mood for sure.
And the carrots are cute, too! These would make great gifts for gardeners for sure.
This artisan has a whole array of different food miniature earrings…everything from fried eggs to donuts, and is a star seller with high ratings so I'd defientley check out all her other listings, if you get the chance.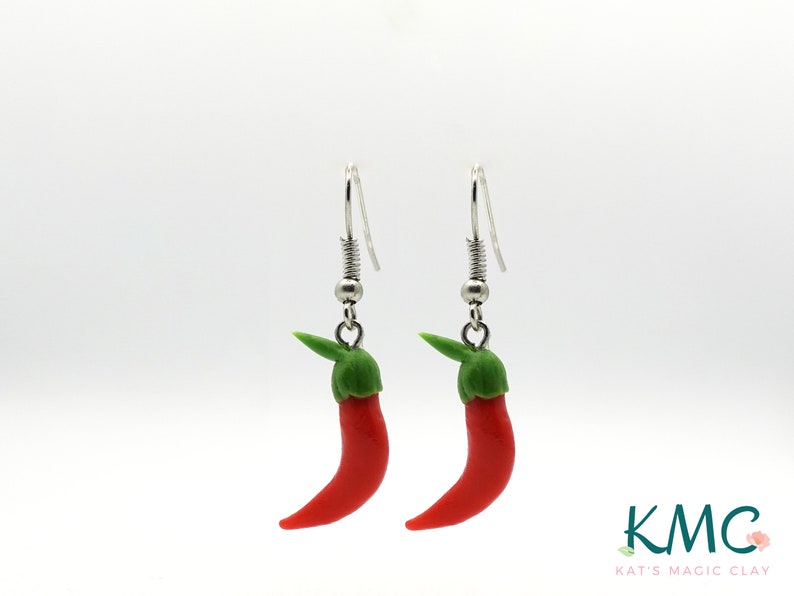 Chili Pepper Dangle Earrings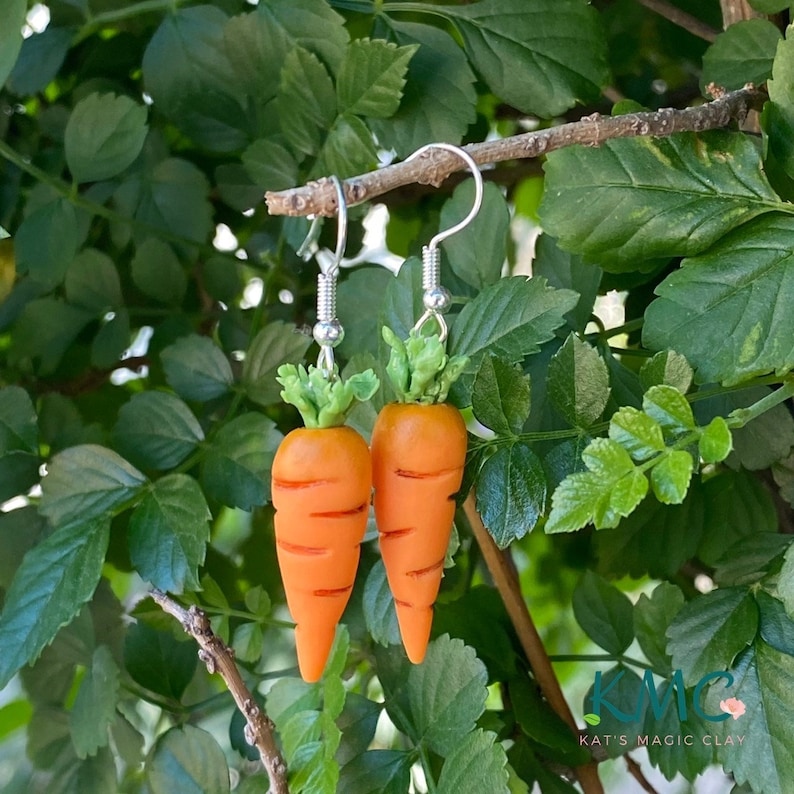 Fashion Veggie Earrings- Carrots

Post Style Clay Earrings in Animal Shapes
These cute little clay critters kind of look like they're biting your earlobes; there is an alligator, a hippo, and dinosaur, all of these are in the post style with the back clasp. The artist mentions that these may be a little heavy than girls of a certain age may find comfortable.
3D Clay Earrings Bite Ear Handmade Polymer Alligator
Cute Hippo Bite Ear Stud Dangle Earrings Handmade Polymer Clay
925 Sterling Silver Butterfly Dangle Earrings Handmade Multi Colored Polymer Clay 
Handmade Millifiori Clay Butterfly Dangle Earrings
Searching for an extra special gift for a special occasion? Look no further than these gorgeous butterfly earrings handcrafted with multicolor wings.
Made by an time honored Italian tradition, "Millifiori" translates to " a thousand flowers", there's no better way to showcase a stunning piece of jewelry.
They are put together with a sterling silver framework and come in an elegant gift box.
Character Earrings Made From Polymer Clay
For Disney fans, you can't go wrong with these adorable Minions earring sets – these ever-popular Despicable Me characters are bound to get the wearer noticed! The shop who makes these also has them in purple and a Santa hat too.
Polymer Clay Minion Dangle Earrings
Polymer Clay Minion Earrings – Post Style
Wow, what did you think of these handcrafted beauties? I wear earrings but on a blue moon, but I'm tempted to start again after seeing some of these!