THIS POST MAY CONTAIN AFFILIATE LINKS AT NO EXTRA COST TO YOU.
A handmade wooden garden bench is the ideal centerpiece for your backyard. It gives you a place to gather your thoughts and find serenity in the most peaceful place. And it can crate a visually esthetic focal point that you can admire as well as take a breather. Next to having a porch swing, nothing says "come on by and sit a spell" like a rustic outdoor bench. Many you see today are fashioned from something liek wrought iron, but the beauty of natural wood is unmatched.
One or two seater?
Every backyard needs good seating…whether it's just you, your better half or a guest….Settees tend to be the most popular type of outdoor seating. I have one made out of wicker and it holds up to the outdoors well, of course it's in a covered spot. 
If you're not concerned with back support, I like this reclaimed wood garden bench I found. I haven't seen anything like this anywhere – it's fashioned form the staves of aged wine barrels. It's 38″ in width and 19″ in height. Some assembly is needed – but it will be a beautiful rustic addition to your outdoor setting. 
I assure you, you won't find anything like this one anywhere, the darker parts of the wood add an element of intrigue and folk appeal. The shop name is Timber2Art. Take a look around and see their other offerings if you can.
Do you enjoy objects that embody form as well as function? Here is a bench that doubles as a planter, exclusively from the shop RosatoWoods.  Made from cedar that will age beautifully after being stained. It comes with a lining of heavy duty fabric for adequate drainage. 22″ in length. Worth checking out, I think he offers free shipping, can't lose there.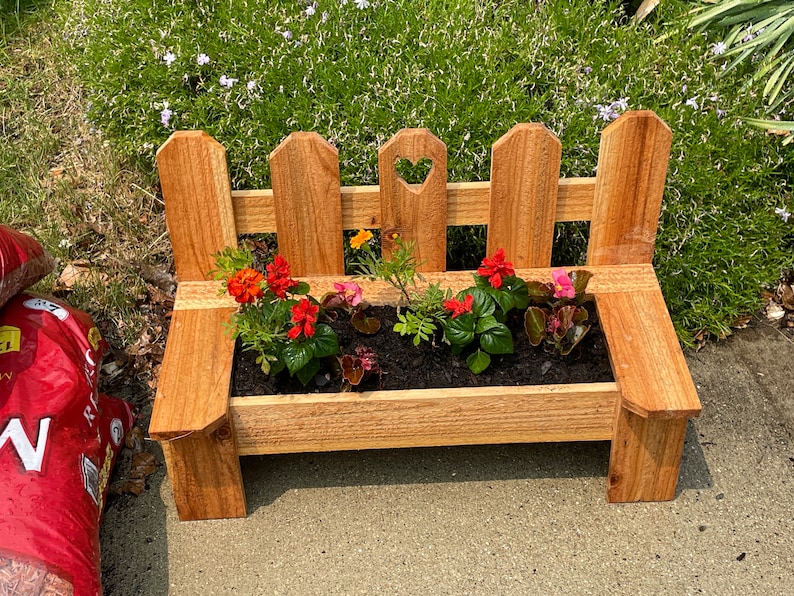 Handcrafted Wood Bench and Planter

So there you have it, benches aren't just for sitting anymore, they can serve a purpose and that can be to house one of your prized plants, to stash your garden stuff, and of course, to create a visually appealing focal point in your most enjoyed spot of your domain – the backyard.