THIS POST MAY CONTAIN AFFILIATE LINKS AT NO EXTRA COST TO YOU.
It wasn't easy to find unique handmade wooden garden ornaments – most are made out of resin or metal. In fact the majority of outdoor lawn sculpture is. is wood not a common material? We know the farmhouse look has been popular for awhile and anything wooden dovetails with that well. Wood being the most natural substance out there, it's surprising that its less common. Why is this?
Well real hand carved sculptures are time consuming. There's special tools involved plus let's not forget about the amount of labor involved compared to something simple like mold casting that often accompanies resin yard art.
One day I stopped at my brother in law's house and something in the living room caught my eye. It was a wood sculpture of what I think was a bear or woodland animal and he had used, surprisingly, not knives but special jigsaw attachments. I don't know if this was his first attempt but I was very impressed.
Now, for your eyes, only, I would like to share with you today, some lovely findings I have seen, All of these are from star sellers on Etsy and with great feedback (plus they are also offering free shipping, better yet) so you can shop with confidence.
Rustic Outdoor Wooden Hangups
I love these rustic wooden flowers, they are all fitted with a hanger on the back and ideal to adorn your outdoor garden shed, patio area or porch rail, or you could hang it on your door to add a touch of farmhouse flair to your abode. This one that's yellow is only one of many offered, check out the rest of his offerings, he has flowers in lots of different colors and different petal styles, too.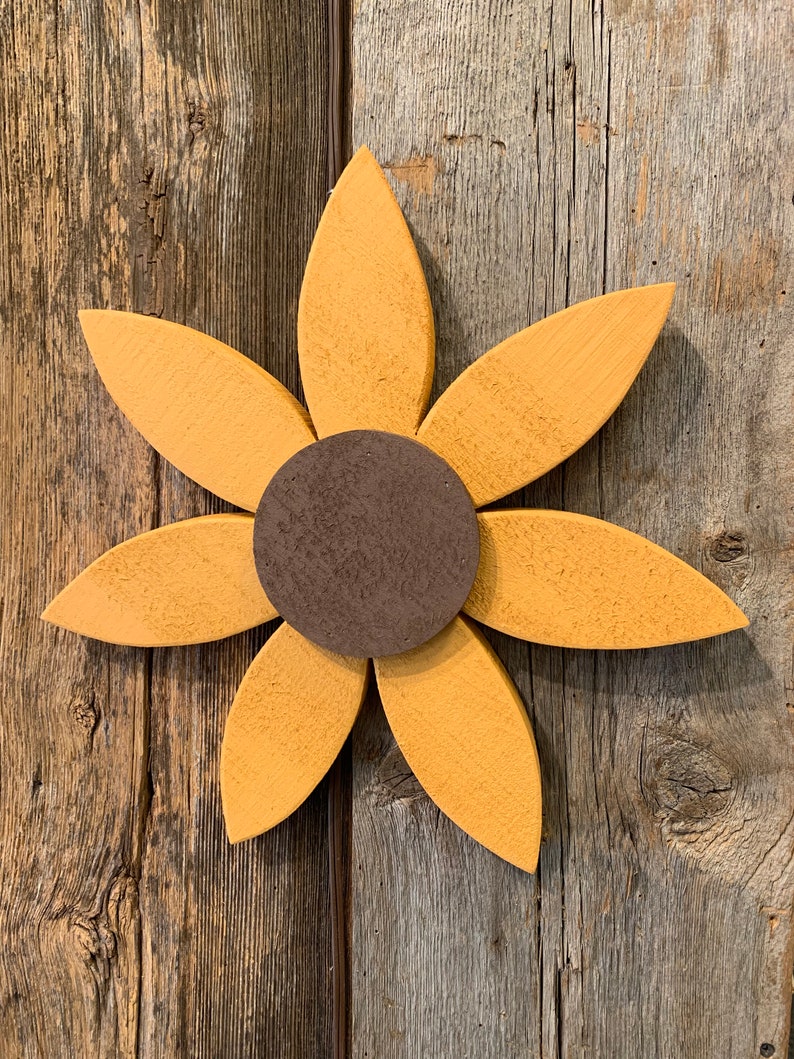 Rustic Wood Flower Art Decoration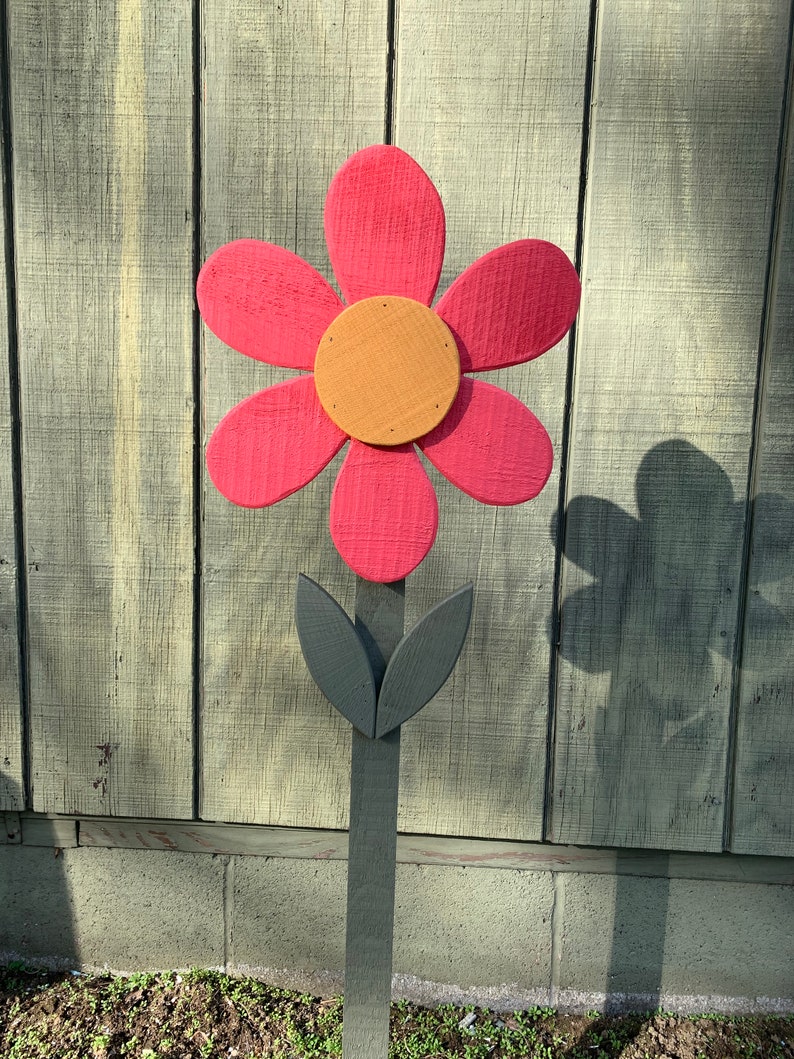 Flower Garden Statement Piece

If you have the space for it, a cluster group of small and large flowers like these would look really stunning. The style of flower on the right with the stem/leaves also has a metal stake for insertion.
Hard Carved Wooden Sculpture for the Garden and Yard
This wooden mushroom trio is perfect touch to your landscape, they'll look great alongside your little gnomes or what have you. In addition to wood the addition of ash acts as a natural preservative to retain their lustre. The seller is based in the UK but they do get lots of customers here in the states too.
The intricacy of the detail on the mushroom caps is pretty impressive – if you show this in your yard people may mistake it for the real thing, perhaps…A lovely addition to your fairy garden ensemble, landscape or terrace.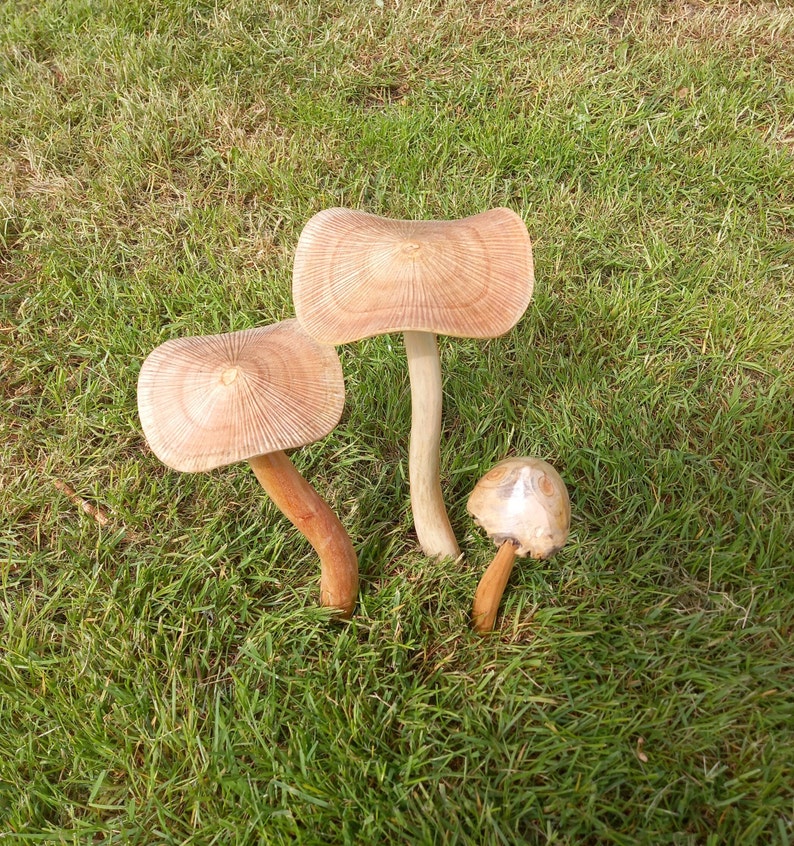 Hand Carved Wooden Mushroom Sculpture

Handmade Wooden Rail Sitters
This charming frog rail sitter is exclusive to Cathy's Wood Shop. What a fun way to add a touch of whimsy to your porch rail, fence, or flower boxes. The seller has a series of different poses available for this fun little guy (be sure to bookmark as some of them are low in stock.) There is also a gray goose which is equally cute too.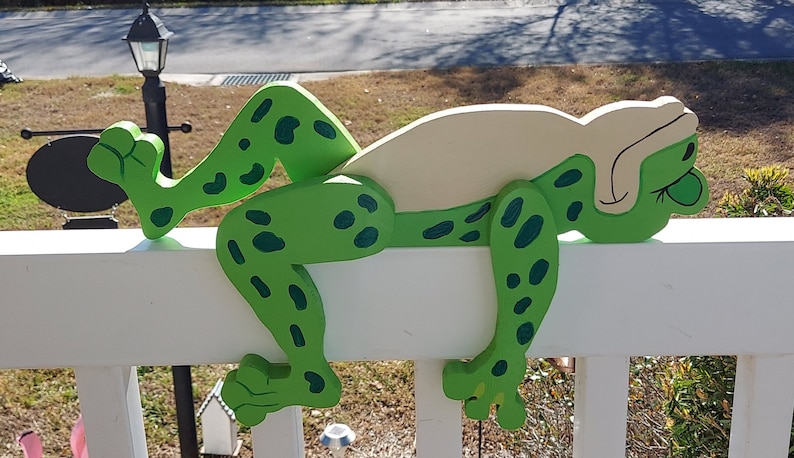 Hand Scrolled Rail Sitter Frog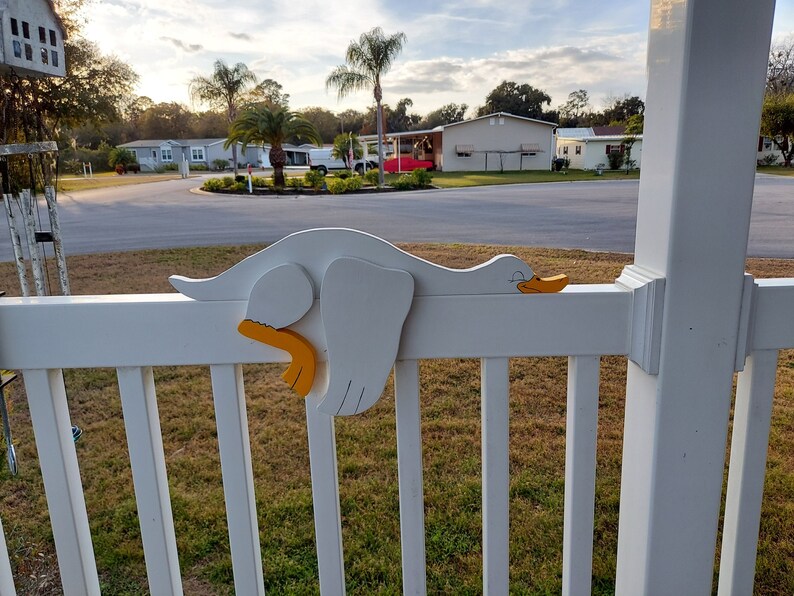 Wooden Goose Fence Decoration

Both are hand carved and scrolled form pine (mostly) and painted. They're both given a coat of polycrylic sealant to protect them from years to come. She does recommend that you reapply a coat yearly at your discretion to preserve the object's vibrant colors.