Looking for unique Mardi Gras craft and decor ideas? Let's face it, New Orleans is the original party time city, so you won't lack for ideas – if anything, you'll have an embarrassment of riches. If you've never taken part in this big deal annual festivity but wanted to, well now you can have the next best thing!
As for me, I have always wanted to attend Mardi Gras. but the closest I came to was Bastille Day (July 14) which was fun too…I got some cool parade souvenirs from that Bastille Day parade  including – yup – the classic bead strands
.
So you don't actually have to attend to incorporate the fun and festive themes into your domicile! I wanted to give my apartment a theme makeover. I chose Mardi Gras as it was my favorite! I made all kinds of projects to hang, and display. ⚜
Pin Image For Later? ⚜
The Colors and Their Meaning…
Ever wondered about the significance of the Mardi Gras colors? Yes, me too!
Green -Faith
Purple – Justice
Gold – Power
Mardi Gras Fillable Vase Centerpieces
My college once put on a Spirit Week in which every day was a unique theme for sports, the cafeteria menu, etc. One day we had Mardi Gras Day and that was fun, getting to try some interpretations of the local cuisine and being served jambalaya, red beans and rice, and some other specialties.
Centerpieces were created, using confetti, glitter and the classic bead strands, adding to the atmosphere. The confetti was used as table scatter, and vases were filled with beads representing the occasion in the famous color scheme. This craft is easy to assemble and can be done in a pinch. Vases can be filled with a variety of items: beads, confetti, glass marbles, or plastic coins.
Try to combine and layer some big gems like this with small sizes for a real "wow" effect. Get yourself some clear vases in varying sizes and shapes to add interest and have fun filling them!
Painted Vase and Bottle Crafts
Have you got a few empty wine bottles around? Wine bottles are perfect for this craft. Use spray paint and beautify them in green, gold and purple and turn them into floral arrangement holders.
I like what this gal did – you could do something like this too with your own bottle and jar stash. You can put flowers or even more fun – some New Orleans-style feathers or carnival masks on sticks and insert them into the vases.
Gold Crown Craft
Another familiar fun object represented a lot during Mardi Gras is the gold crown – (perhaps due to the French influence – and the royalty associated with it) I remember making one out of clay  – if I ever find it I will update this post. You can make yours out of clay too, or cardstock, using a template like this one to go by.
Gold crowns make great centerpieces (as they'd be hard to hang on the wall)
Candle Holders or Lanterns
I always find myself thinking of lanterns here – must be that scene from A Streetcar Named Desire?  Handmade lanterns are another great craft to create the right ambiance. You can use jars or light strings.
Just incorporate Mardi Gras festival themes or colors and you should be good to go.
Jester Hat
Another festival staple – the good old court jester. Wouldn't be a parade without him! A craft having to do with the court "fool" or jester would work great….the famous hat is the way to go. You can use the design and create your own from cardstock using a template like this one.
Or of you're thinking along the lines of something to wear – make it from fabric if you are good with sewing. In addition to fabric you'd need some of those little bells too, that tinkle – every jester hat I've seen is cheerful, colorful and has tinkly bells!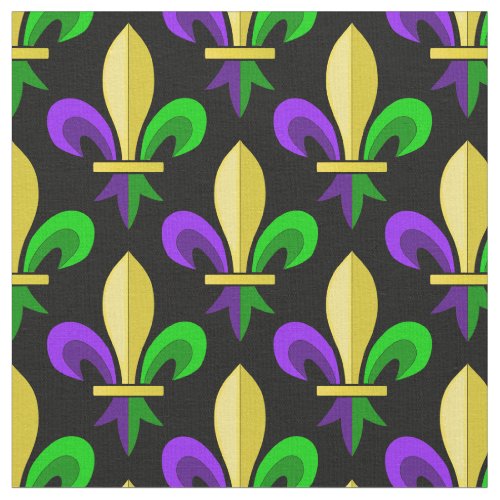 Mardi Gras Carnival Fleur De Lis on Black Fabric

Gold Filigree Mask Mardi Gras masquerade Art Sticker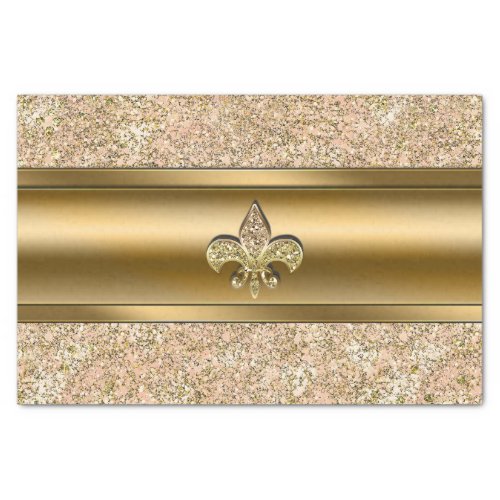 Pink & Gold Sparkle Glittery Fleur de lis Party Tissue Paper

Mardi Gras Wreaths
Door decorations can be great for making a memorable impression when visitors arrive! Take your door from drab to fab New Orleans style with a crafted wreath . Put elements like feathers, beads, and Mardi Gras colored ribbon or tulle around a basic round frame and go to town.
Other objects you can add include: Colorful fringe, artificial flowers, miniature carnival masks, ball shaped Christmas ornaments: Nowadays they come in so many colors that it won't be hard to locate the obligatory green, gold  and purple balls.
A bunch of these in a circle pattern can be really striking!
Garlands
Let's face it, you can't capture the spirit of Mardi Gras without beads…that would be like a birthday party without cake! I got to where I used to love making beaded garlands, I found it soothing kind of like knitting or needlework. I made some pretty color garlands to hang up in the living room.
(I had no banister in my apartment, so I made do by hanging long garlands from the windows; wrapping them around curtains. ) Really added some pizzazz !
Don't stop with beads – you can craft garlands out of other materials too! Remember the "paper chain" you might have made way back in grade school? You can do that with green, yellow and purple paper.
Wall Decorations
The most fun thing I made to create my apartment theme decor was this fleur-de-lis wall hanging I made using Sculpey clay and a few choice tools. having always been fond of the French symbol of antiquity. You can find my tutorial here 🙂
This one seemed like a no-brainer! I added a crackle finish kind of varnish to it so it would have a real vintage look to it. It still hangs in my home…even when I'm not celebrating Mardi Gras.
Carnival Masks
It just wouldn't be Mardi Gras without the fun carnival masks! I made a few masks out of Sculpey to use as decor too…Masks are an easy shape to come up with and then you'd cut out eyeholes but other than that the most fun will be painting them and bringing on the bling with glitter, beads, faux gems, and feathers. I hung these up anywhere I had a narrow space for small hanging pieces.

Clay work not your thing? That's OK….You can make fun carnival masks in other ways too – one way is with templates you can download and print, such as this one below that was shared with me by a fellow marketer….I think this would look great, get enough of these and you've got a party!
New Orleans Street Sign Lamp Centerpieces
Here's something original you're gonna want to dig into….make cute little miniature street lamp decor using solar light sets
…those things that are easy to spot in any lawn and garden section of the local home improvement store and you can often get in sets of four or more.
They have a stake thingy in them which you can insert into a decorative planter or pot. What a great way to take a preexisting pretty plant and adorn it for the occasion?
How to make the street signs? For this a flat piece of wood will do fine, you can paint on the street names yourself. that's pretty much what I did.
I did not use templates; I used some flat board and painted on them and paint markers to write the names. I did manage to find some already-created street name signs below that all you'd need to do is attach to the lights.
I can't take all the credit for this one…check this post out for the full scoop on these cute street signs!
---
GIGALUMI Solar Pathway Lights Outdoor, 6 Pcs

Fun Express Mardi Gras Street Signs – 6 Pieces

Corinthian Order Inspired Look Plastic Planter 10X8

Don't forget to start with the sine qua non of New Orleans nightlife – Bourbon Street! You could create name templates on the computer and later print off.
Other well-known street names to include (I did a little research to find these :):
Canal Street, Claiborne Avenue, Oak Street, St. Charles Avenue, Royal Street, Esplanade Avenue, Carondelet Street
If you're not much of a gardener I think you could fill up some pots with sand and insert your solar lights and add some decor following the suggestions early in this post (if the lights get charged enough they will look great as table centerpieces, and the ones with plants, could be used to line a walkway.)
Are there any other Mardi Gras theme craft ideas you can think of? Let's hear from you as well 🙂
Creative Commons Photo Attribution: Images by BFS Man