THIS POST MAY CONTAIN AFFILIATE LINKS AT NO EXTRA COST TO YOU.
Eye-catching and professional looking paint and sip party invitations not only make a great first impression, they will dramatically increase the chance of getting a lot more RSVPs from your would-be guests. Whether you are throwing a paint party for a close friend's bridal shower, retirement party, milestone birthday, you have only got a short window of time to grab their attention with an eye-catching card when they open their mail!
But I can hear you now saying you don't have all day to hunt down the perfect cards or hours to design your own or the money to hire a designer. Well I've got you covered for all three of those scenarios.
Appealing invites can be created by hand using templates on your computer's design program or you can find one from the multitudes made by talented designers at a platform you may have heard of that is renowned for their great selection of products for home and life, custom designed.
So without further ado, let's have a look at what I have found for you today!
DIY Your Own Party Invitations!
If you are a DIYer and graphic artist at heart, you might consider creating your own invitations. If you have your own software program on hand like Photoshop, Corel Draw, or InDesign you should be good to go. The latter program is used mainly for things like brochures. I used to take classes in these programs so I do have some knowledge of their use.
Even if you think you can't design an eye-catching, professional looking invitation card, you're about to be surprised. There are a number of great platforms online that will let you do just that, some will let you try them out for free! There may be some limitations on the number of projects you can work on.
Examples of templates suited to a party with themes, graphics and text that can be modified:
I use Canva for all of my blog image designing and it's where I found all of the party templates above. I do have a monthly subscription that lets me use all of their amazing graphics. The template on the far right has a little "crown" icon in the corner, indicating you can use it only with a paid subscription.With dozens of ready made designs at your fingertips you can't go wrong. There are tutorials to help you out if you get stuck …give it a try, you won't be disappointed!
Ideally, you should start with a 5″ x 7″ new file which is a common size for invites by mail. You can create the template by building the layers for the background using a certain color scheme and using the Text tool for the dialogue on the front. What you want it to say on the front can vary, but it should include the 4 W's: the What, Where, When, and Who (the guest of honor) and of course, a note to "RSVP".
Save Time With Custom Invites
The above may be time-consuming, and you may have other pressing duties going on at the moment. Enter the next best option – customizable invites! At your fingertips, you could choose from an array of beautiful designs by handmade designers. One place that is great to find these is Zazzle. Don't forget to check for coupon or promo codes as they do offer them from time to time.
You can find every style of design from elegant and posh to playful and bohemian if you check around. There are also landscape (longer or wider) oriented as well as portrait (taller). Here are a few examples of some that would be great for any occasion for a fun night in with your friends.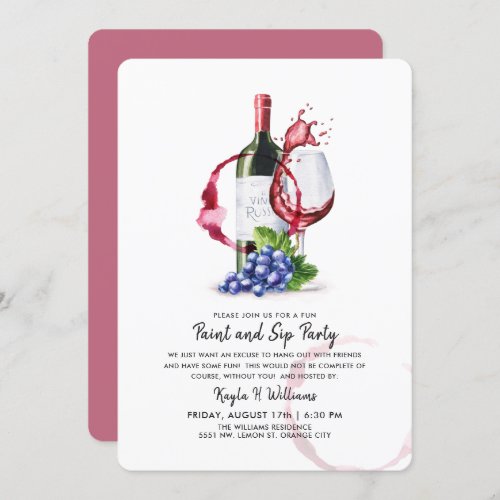 Paint and Sip Party Invitation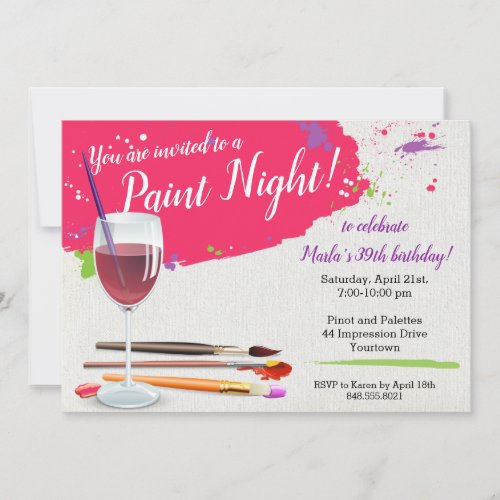 Wine Glass Canvas Party Invitation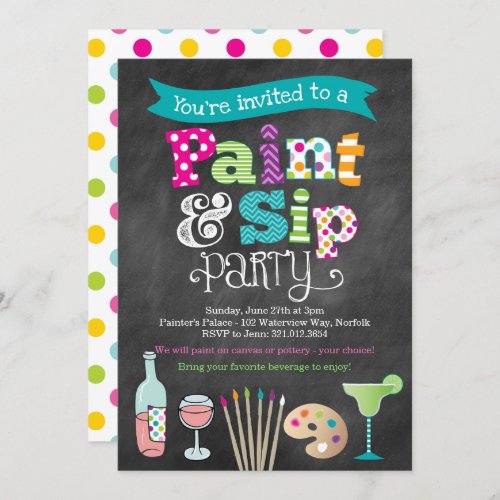 Art Party Chalkboard Style Invitation

I would also check with Etsy or Creative Market too, these two other online venues have a large market for digital download products , so no waiting for it to show up in the mail! I know you are probably familiar with Etsy as it's a very popular venue.
They specialize in "handmade products" but the digital download niche including party planning materials, is growing, and I've seen some great designs I wouldn't hesitate to order. Some do custom work too. Just check to see if you can find a shop owner who specializes in this and has a good track record.
Milestone Adult Birthday Invitations
If a big 30th, 40th or 50th birthday is coming up for someone in your life, you'd be crazy not to want to celebrate with them, and if you're planning a shindig that involves painting, let everyone you want to join in know about it in style! Here are a few that I found that are specifically birthday-themed that would be a good choice:
Paint & Sip Wine Watercolor Birthday Invitation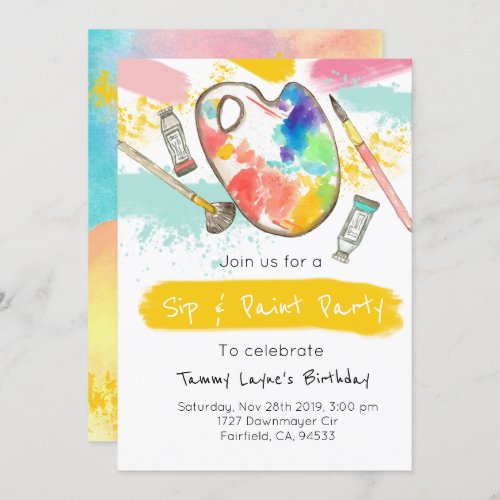 Sip and paint adult birthday party invite

Modern Art Party 50th Paint and Sip Birthday Invitation

Bride to Be Invites
Is your bestie announcing her engagement? A paint and sip will be so much fun and make a festive event out of planning the big day to be something to remember for friends and family. And what kind of bridal bash would be complete without a little wine to celebrate?  These lovely cards below are perfect for a bridal party.
The one on the far right takes a minimalistic approach with rustic brown kraft paper, which would look good for a rustic or vintage themed gathering.
Bridal Shower – Paint & Sip Invitation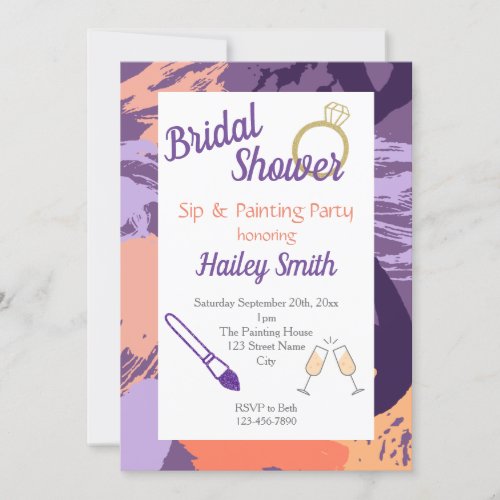 Bridal Shower Sip and Painting Party Invitation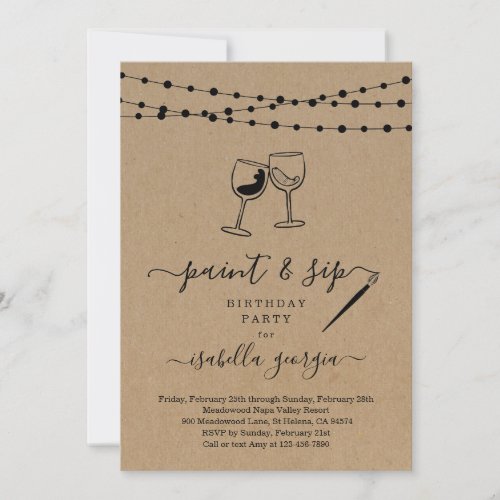 Paint & Sip Birthday, Bachelorette, Bridal Shower Invitation

Best of luck with your party, and beforehand (if it applies), congratulations!