What better way to top off the holiday season than with your very own polymer clay Christmas tree decorations? Whether it's one single ornament that's spectacular in its design, or a series of them to bring a little yuletide cheer to that lovely spruce or evergreen, you'll be sure to have a winning combination when you hang a few of these.
You won't find anything like these at the big box stores that's for sure. Not only will they look great on display, they also make great keepsakes to use every year and will be treasured to hand down to your children one day, as is the case with so many treasured ornaments. I've got ornaments in my collection that I made myself that I hold on to dearly, so I can see the value in these as a treasured family heirloom.
Whether you're looking for simple or elaborate and glitzy you'll love what I have in store! And if you're thinking about making some of your own the good news is if you've got the clay, all you'll need is some paint, glitter to glam them up, some cutters….traditional cookie cutters will work great for this-as there are always Christmas shapes in full abundance, which will help with the ideas part of it.
If you're looking for handmade ornaments, the goldmine that awaits you is that little corner on the web known as Etsy…all of them one of a kind and made by original artisans, so you can't go wrong.
Snowflake Ornaments
Snowflakes are everyone's favorite, and they'll go with literally anything As the classic maxim says no two are alike and you'll find that is true with ornaments too! Check out these I found by ElegantOrnamentGifts…simplicity of design accented with a little bling in the form of rhinestones adding a magical touch.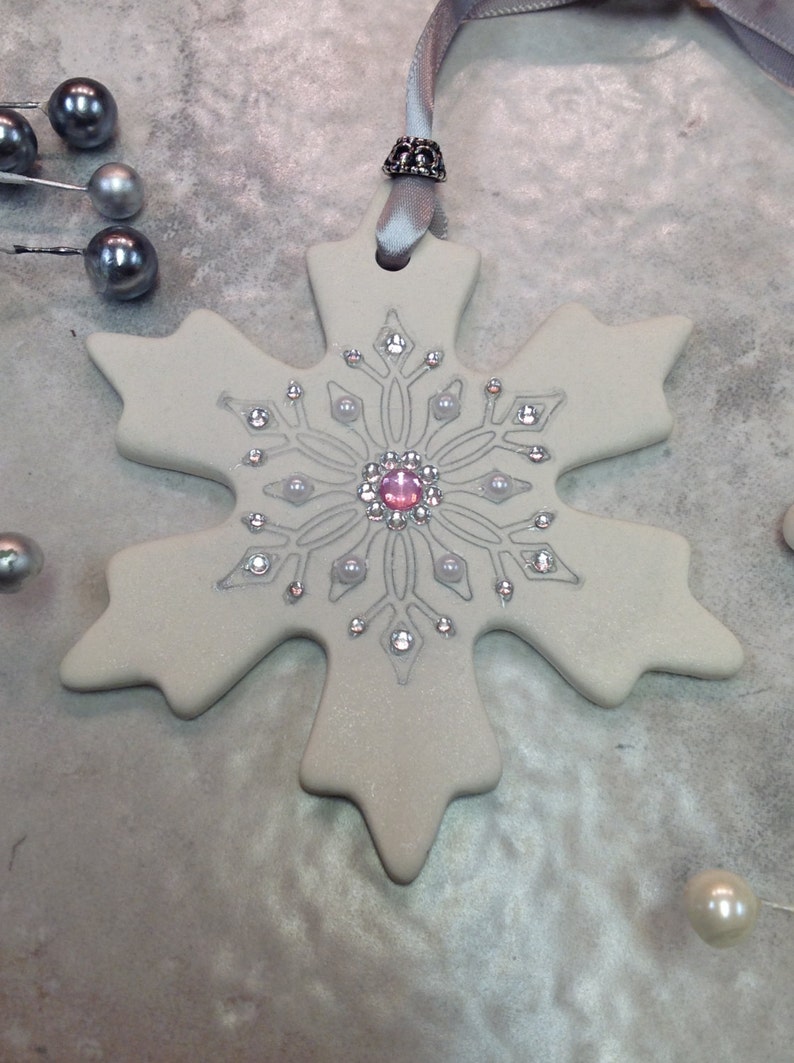 Polymer Clay Snowflake Ornament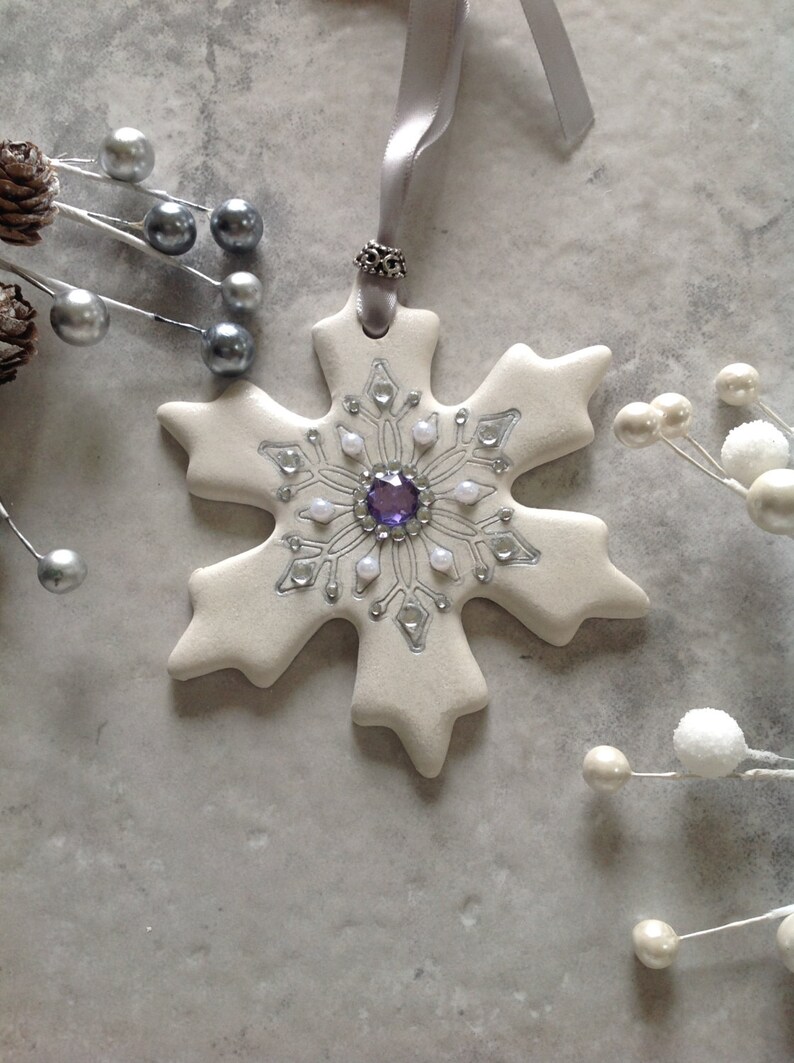 Bling Snowflake Handmade Ornament

These are sold singly so a great addition to your collection of ornaments, or use one of these to top off a wine bottle, or hand in the middle of the mantelpiece or another spot that could use some touch of holiday charm.
If you have a holiday theme in mind that you would enjoy like the traditional themes of snowmen, reindeer, candy canes and trees, here's a shop that does custom orders and you can see all her designs up close. It is one per order. They're adorable – so be sure to take a look at all of them.
Holiday Ornament Sets Made From Clay
Looking for a series of ornament s that will make a statement? Look no further that what I have found here, and especially if you like the "less is more" rustic/farmhouse look. These original ornaments sets are hand stamped with messages that you can customize yourself, so what better way to commemorate a special occasion like baby's first Christmas, our first year together, or even "we survived the pandemic Christmas ) that seems to be pretty popular, this is perfect. Each ornament is 3″ by 5″ and uses a jute cord for hanging for a homey look.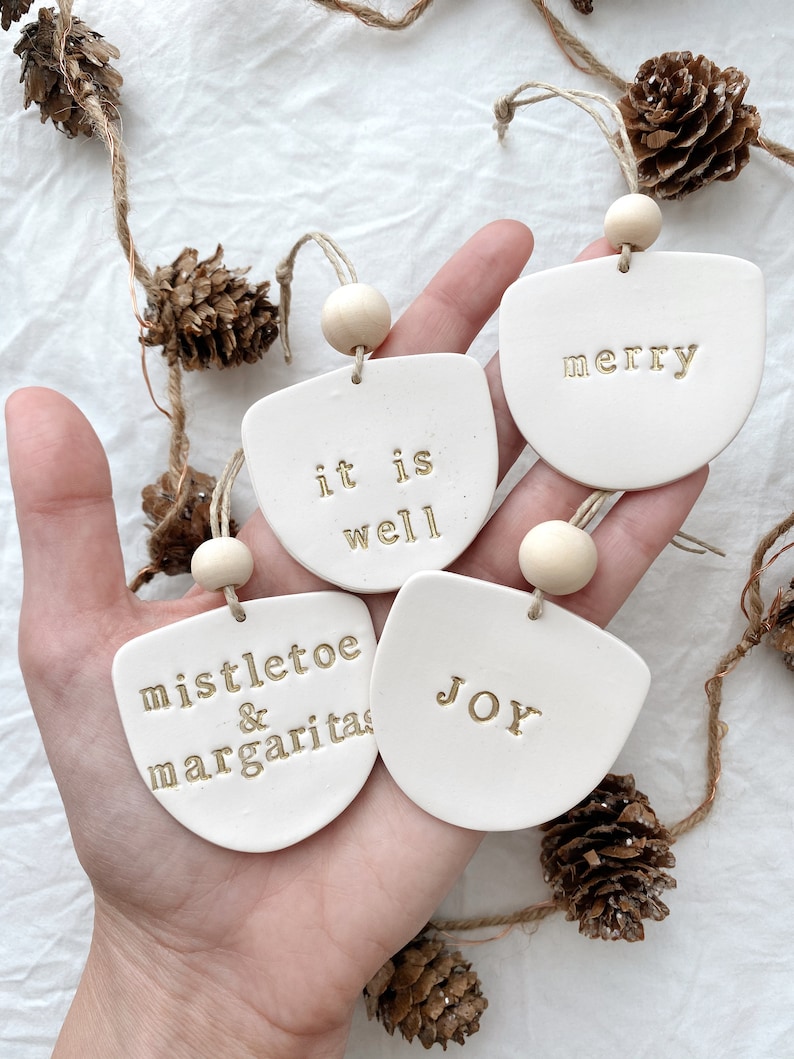 Set of 3 Handmade Ornaments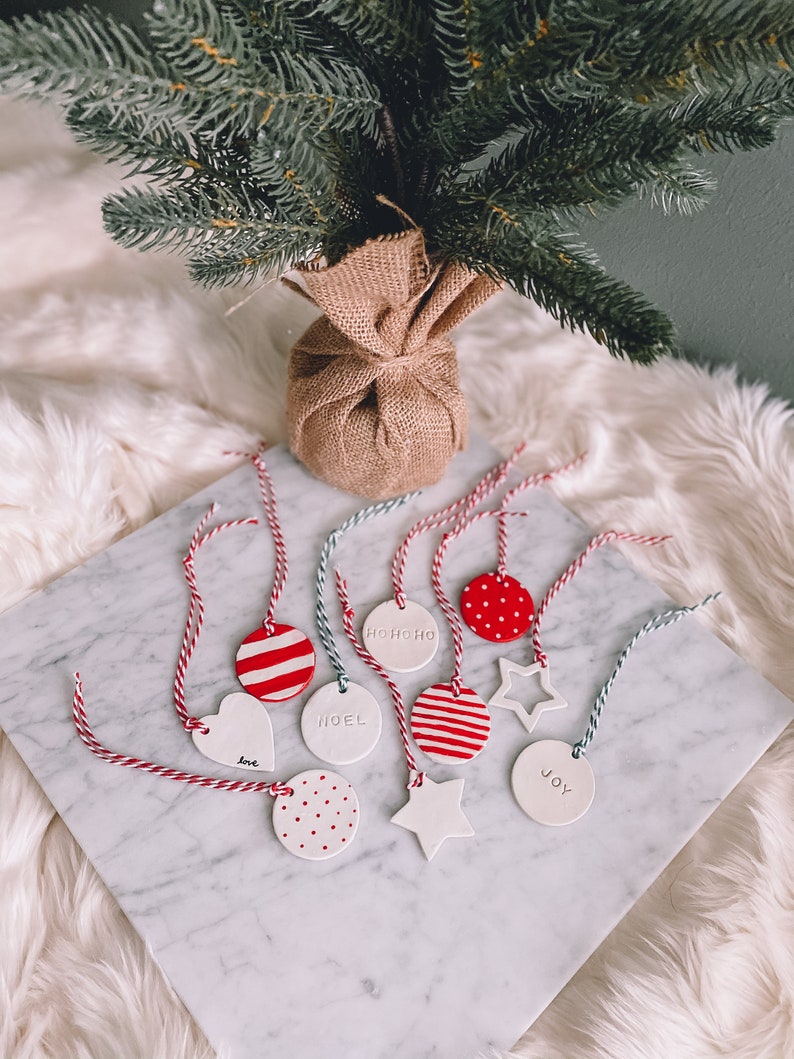 Handmade Holiday Ornaments

These typography ornaments are made by Shopcopperandclay and Little ClayThingsShop. The ones at the former can be customized. The ones on the latter and daintier and they will equally look good to adorn a gift or wine bottle. You'll receive three in a set!
Too cute! What a great way to make your holiday season a little more magical.