This post may contain affiliate links for products I recommend. If you make a purchase via one of the links I may receive a commission. This does not affect the price you would pay
Hi all, are you in need of scrapbook party ideas ? If you happen to have an entourage of friends that are all caught up in the art form you'd be crazy not to want to put together a scrapper shindig. If so you'll certainly want to know what goes into it! Like any idea it takes planning though 🙂
With more than 26 million Americans who partake in the arts of snipping and trimming, you're sure to find others to respond positively. As well as RSVPing! So let's get into the nitty gritty of ideas so things go off without a hitch!
Pin for Later?
Scrapbooking Party Tips: Consider a Theme First
Many parties have gone off amazingly well when planned around a certain theme. That or a special occasion like a birthday, wedding, new baby or what have you. Themes can range from tropical islands to autumn leaves just to name a few examples -it helps to unify your ideas for decorations, ambiance and lighting, materials to use and yes even refreshments and food.
If not a theme -a special occasion is also great -like a birthday, anniversary, graduation. Depending on the occasion in question, all of the guests in attendance can each create a page of their own to include in the book – The guest of honor who will be the lucky recipient of the finished scrapbook album.
Planning Perfect Parties (Craft It Yourself)

Decorate for a Party: Stylish and Simple Ideas

Make Sure To Create Some Really Good Invites!
Don't forget, you can use your scrapbook prowess equally to make some dynamite invites to send to everyone on your guest list! You can craft the traditional kind, or do "e-vites" (electronic invites)  if that is more your style. 
The important elements of a good card invite to show how they go together. Don't forget to include the following info on your card!
The date and time
The location
Should your guests bring anything? (If so, specify what…like certain supplies)
(Optional) If something in particular will be provided, specify what (like food)
I talk about card elements more in an earlier post; but don't forget the essentials, what should you bring and what will be furnished, and of course, a warm greeting too!
Pressed for time? You can also send predesigned invitation cards instead! Not only are these fresh and appealing, they can be personalized and customized with the date, time place and any other important info you'd like to include.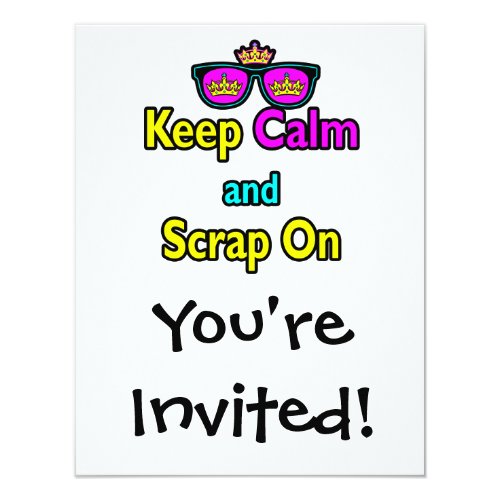 Keep calm and scrap on invite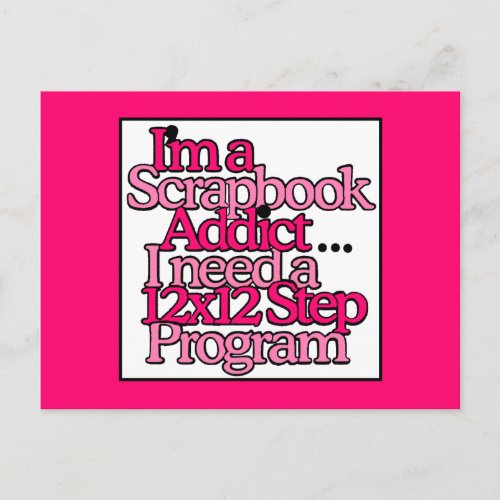 Scrapbooking Party Invitation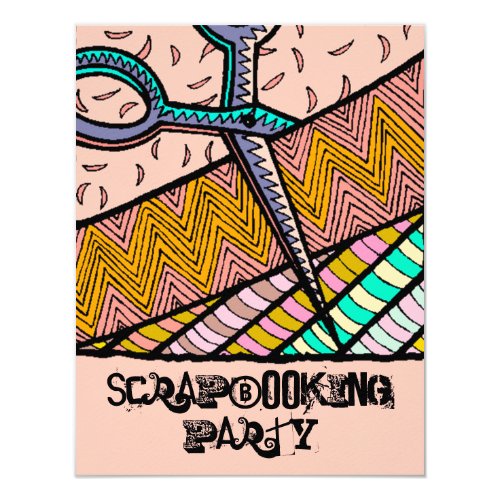 Craft Themed Party Invitation

Creating an Atmosphere
Whatever the occasion or theme involved, don't forget the ambiance is really going to make your party a big smash. Decoration should sync up with things that represent the occasion, and ambient lighting   Don't forget music too – the right kind of background music can help set the right tone for creative endeavors. I know I'm always listening to something when I'm working on a project 🙂
While we are on the subject of lighting, you can't go wrong with this idea if you need one in a pinch! All you need are a string of little midget Christmas lights and some ideas to get started.        
🎁 Favors, Games and Prizes
Offering incentives are another great way to add fun to the atmosphere. Include games in the lineup  to motivate your guests a little and consider offering prizes to the best page that matches X category like funniest, most detailed, etc. Or you can include progressive layouts in which each attendee works on the pages of the guests one at a time the end result will be a great book with a page that everyone has worked on.
Favors are another great idea to include in your repertoire-who doesn't like the thought of receiving a little gift? Offer each of your guests something special and small like a sticker pack, stamp, or card. Try to make sure your gifts match the theme or occasion of the party too. A little thoughtfulness of this nature can go a long way!
American Crafts Cute Icon Paperclips Set of 6
American Crafts Colorful Washi Tape Set
American Crafts – Puffy Mini Sticker Set
🍰 Don't Forget Refreshments Too 🙂
If you really want to have an unforgettable time, make sure that you have snacks and sweet treats on hand! Be sure to have one table reserved as a buffet table for all your goodies as well as plates, utensils, napkins and beverages can go on. You'll definitely be going the extra mile with a nice array of goodies to snack on and enjoy!
Sweet and simple can include a cake, pie, cupcakes (not many people are going to say no to dessert lol) and finger foods as well, things like mini quiches, cocktail smokies, homemade sausage balls (all of these are things I have made btw. AND are non-messy)
Milestone Birthdays
All those decade focused birthdays like the 30th , 40th, etc., are a great excuse to plan a party. There's nothing like the next big "decade" to look back and reflect! Guests can contribute pictures of their fondest memories during the year before, things that were accomplished, high points and lows?
What did you do that was important and meaningful for you? Buying a house? Becoming a mom? Getting a promotion? Let all these special events inspire you and your guests as you create your pages.
Collect as many pictures and mementos as you can to include in your Big 30th (or 40th, 50th, etc.) scrapbook party for an unforgettable evening of going back down memory lane.
Image credit: Meglet127
Have a Going Away Surprise Scrapbook Party
Is there a friend, neighbor or coworker very near and dear to you, that has plans to relocate? Would you like to wish them a happy continuing journey?  Throwing a going away party is an awesome move. Create a scrapbook around the person's life and the things that made him/her special, you may want to invite people in secret that won't spill the beans. You can send invitations via email which are a good way to get the ball rolling without the guest of honor knowing.
You and all of your other friends and coworkers can each  contribute pictures, notes, mementos (even something like a wrapper from her favorite take out place, or fancy napkin from a prior event, thee make good things to include) On the day of the party bring out the scrapbook you've completed as a going away gift, she's gonna be floored for sure!
Location
You may have many more other considerations such as the location -like a conference or banquet room at a hotel, which would have to be booked. This is something that should probably be started a year in advance, giving you enough time to work out the kinks. Are you thinking of hiring a band or entertainer for the event? All of which are things that take special planning and preparation.
Summary
So I hope these ideas will provide you of what goes into a great scrapbook party. Be mindful as it takes pretty much the same amount of effort and planning as any other party event. If you've ever played hostess before some of these tips may come as no surprise as they are on the list of every successful party. Happy Scrapbooking!