Wow, now I've seen everything! How about some unique handmade yarn ball earrings for the knitting enthusiast you know?
Well if you've ever been unsure of what to get a hobbyist in the fiber arts of crochet, knitting or weaving, look no further, these little earring sets are something else. She'll "have a ball" wearing them, and for those with sensitive ears I have found some that are made from metals that are hypoallergenic too.
Even though I don't knit or crochet (Well, I have dabbled – does that count?😁) I know I would wear a pair like these; they're too darn cute and I have always had a knack for unique earrings over the years that I've collected or made on my own.
I know you probably know this already, but will say it anyway –
👉Although these earrings are adorable, they are not waterproof so please don't shower or swim wearing them.
Yarn Ball Handmade Earrings in Hanging Fish Hook Style
This pair on the right can be custom made in 11 different colors and you can also choose a Sterling silver finish as well. I have lots of silver earrings and having had trouble in the past with earring irritation, I know this is a good metal to go with.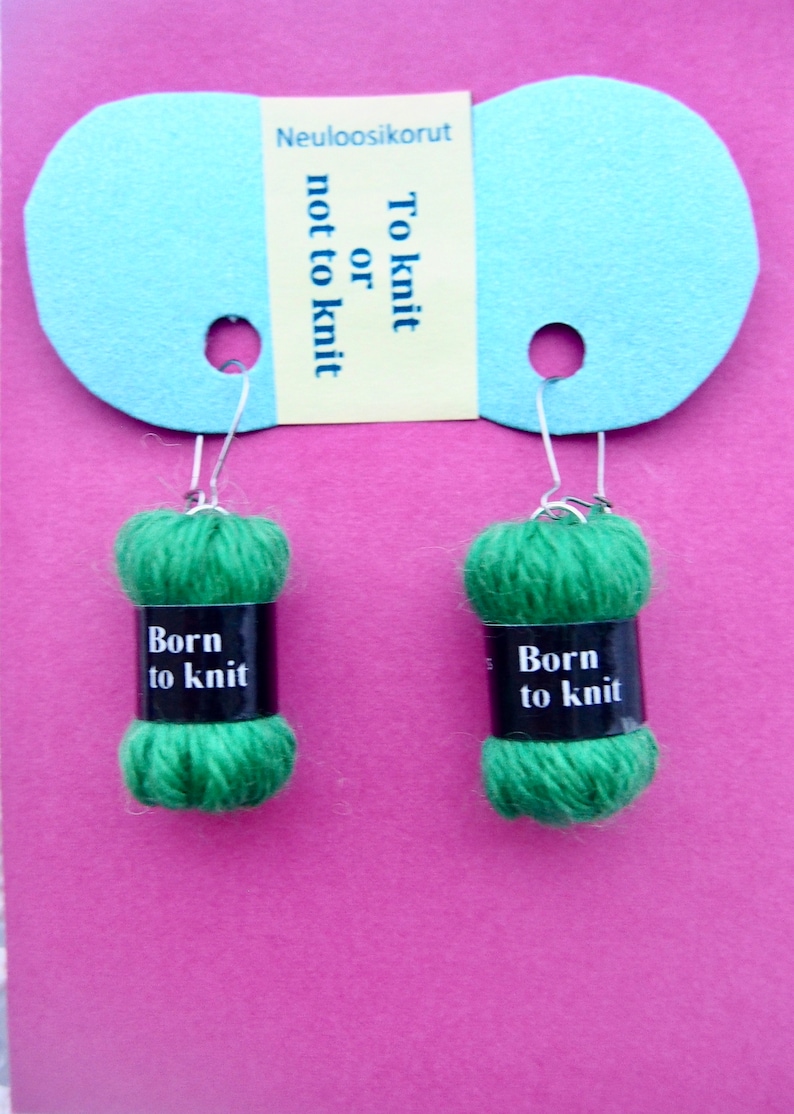 Born to Knit Dangle Earrings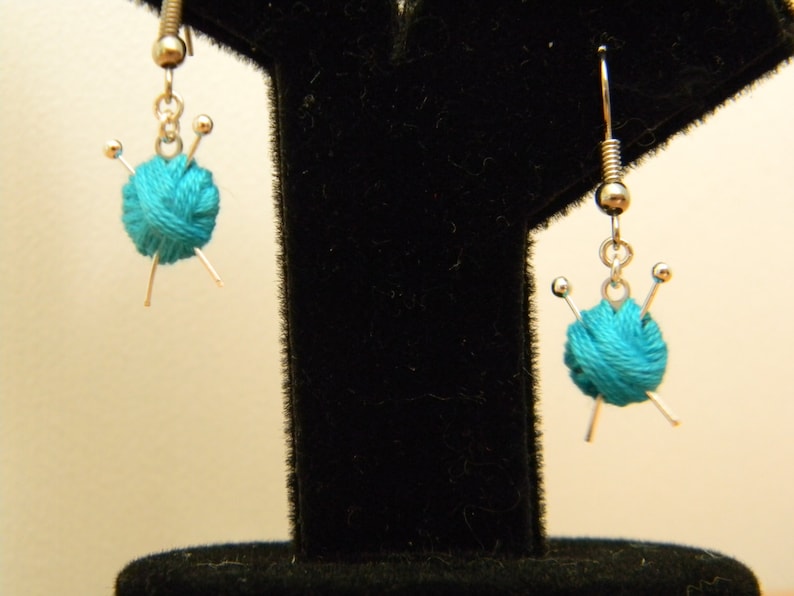 Yarn Ball Dangle Earrings

I really like the presentation of the pair on the left; not only are those labels around the yarn that say "Born to Knit" just darling, the display card cut to look like a ball, or whatever an oval shape is called? – looks great.
Small Laser Cut Mini Yarn Ball Decoy Post Earrings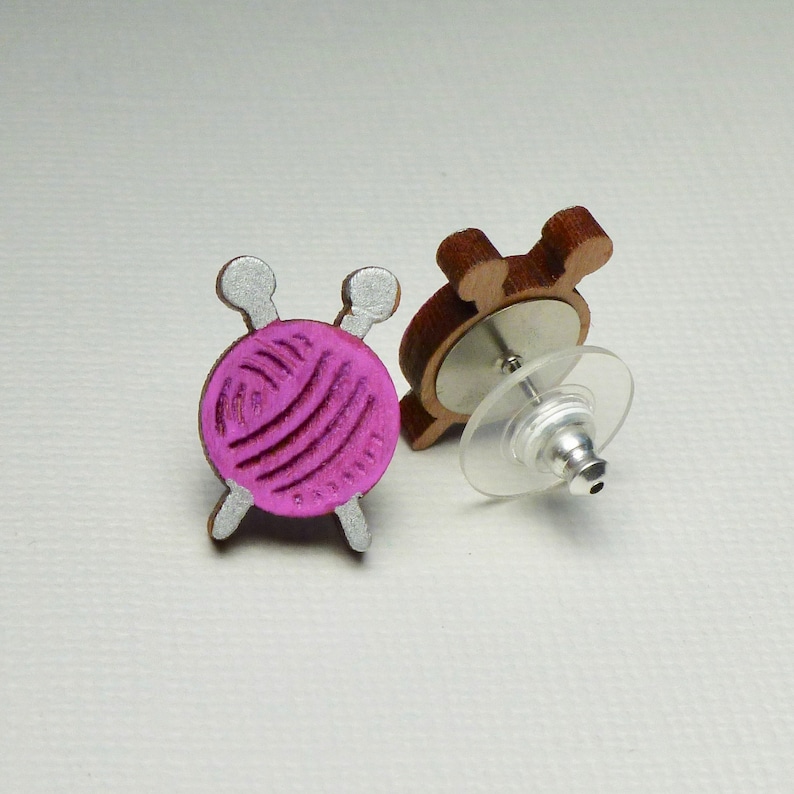 Laser Cut Cute Yarn Ball Earrings

If you're more into a two-dimensional look, then you can't go wrong with this handmade set above, made a different way – from laser cut cherry wood and hand painted with the shapes of the ball and needles.
These would be a great choice for a more understated look that's still unique, and unlike the dangly balls above, won't draw that much attention your way on behalf of your favorite hobby, if you happen to be a little more reserved.
Yarn Ball Earrings with Hooks and Needles
This shop, Maxs World, is really awesome, the proprietor is really dedicated to the fiber arts. She is offering this yarn ball earring in beaded French hook style as well as the post – and different colors, there are crochet hooks in addition to knitting needles.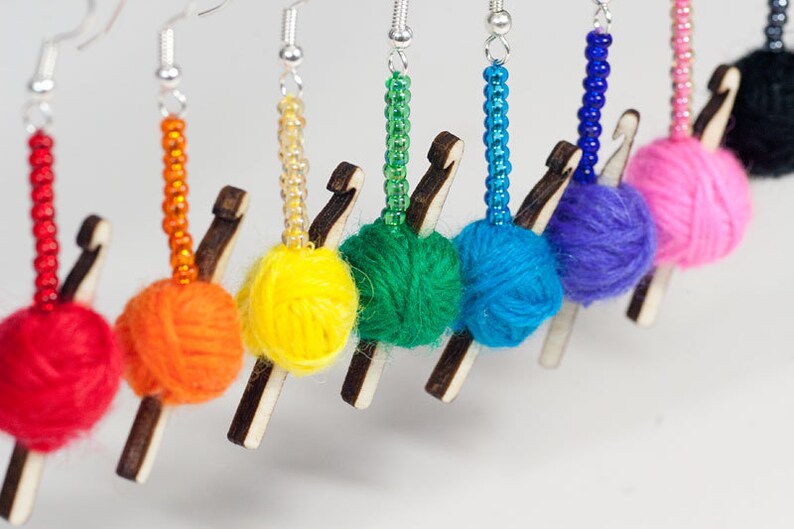 Mini Yarn Ball Earrings with Crochet Hooks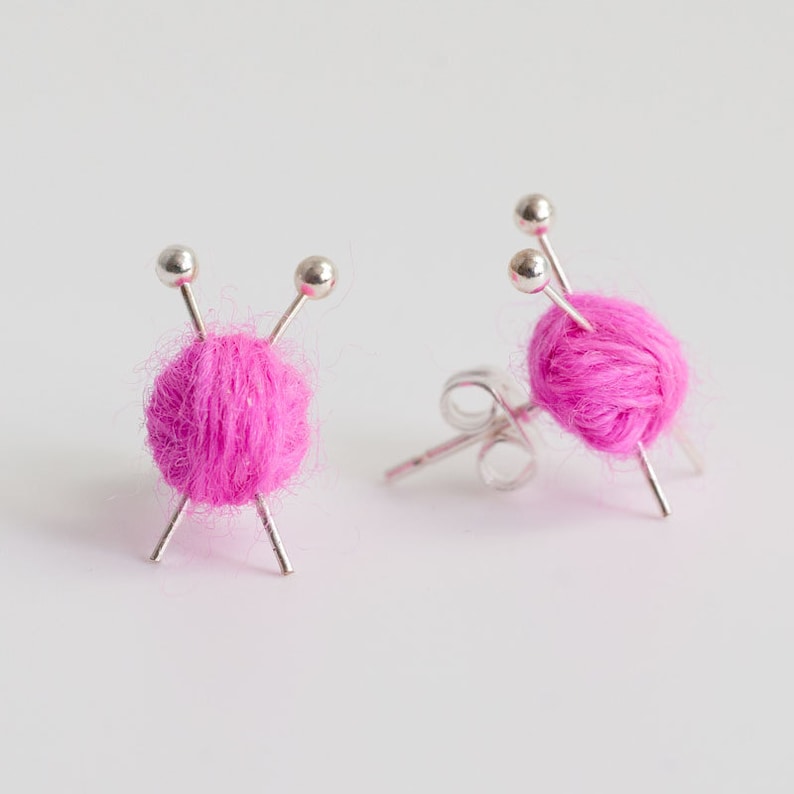 Yarn ball stud earrings

She uses hand dyed Merino wool for all these earrings in 9 colors.As you can see the "needles in the earrings are blunt ended and not sharp.  Too cute!
Yarn Ball Earrings Handmade From Beads and Polymer Clay
Not just string, polymer clay earrings are very sought after and this set below makes use of it for these cuties right here! I like the attached bead dangle as it adds a nice touch.
Beaded Polymer Clay Yarn Ball Earrings

These shown are green, but you may be able to choose a different color (for the yarn balls) if you prefer.
Art for your ears? Yes please! So which of these unique handmade yarn ball earrings did you like the best?