Today we've got some great Van Gogh gift ideas for the big fan or admirer of his many artworks! Starry Night, Sunflowers, and much more….I find it the height of irony that his work is worth MILLIONS now, when in his lifetime he didn't have a lick of commercial success.
I could be slightly off base here, but he either sold only one painting, or it might have been zip.
(I like to study and read about the great masters so I find out these tidbits of info about them…😊)
It always amazed me that some people could sell amateurish looking art right and left, but someone like Van Gogh who had genuine talent, did not. Makes me wonder if it all came down to the "it's not what you do, it's who you know" thing?
Pin to Your Art Board 🎨 
Anyway, I wanted to pay tribute to his legacy and discover some gift ideas for you, I realize there are so many prints and repros of his work, which is great too, but I also wanted to scout for some unique finds as well. so I hope you enjoy my lineup of Van Gogh gifts!
Funny and Inspiring Van Gogh Message T-Shirts
I used to have a tshirt somewhere with the Sunflowers screenprint on it….There's a wide selection of these available now, featuring the famous Starry Night, Sunflowers, Cafe scene, and more. I also came across some shirts printed with quotes too….But the kicker is the funny ones like these that read "Let it Gogh" and "Gogh Ahead, I'm Listening"
Vincent Van Gogh – Sunflowers – T Shirt Womens Mens Shirt

Vincent Van Gogh Starry Night T-Shirt Painting Art Shirt

Let It Gogh T Shirt Vincent Van Gogh Artist Funny Image Gift

Gogh Ahead I'm Listening – Funny Vincent Van Gogh T-Shirt

Vincent Van Gogh Inspirational Love Quote Text Shirt V-Neck

Art Is To Console Those Who Are Broken By Life (Van Gogh)

And Don't Forget the Mugs
The mugs too, don't forget, they look pretty spiffy! Choose from the ones that have Van Gogh's many works printed on the front and wrapping around the side. A great idea for taking some hot joe or tea! I found a color-changing one that looks really cool in which a design appears when you pour in the hot beverage. But if you really want to wow a Van Gogh fan, I recommend the four mug gift set that features one of each of his most famous works of art.
Vincent Van Gogh, Wheat Field with Crows, 1890 Photo Coffee Mug Plus 1 Sticker

Disappearing Ear Mug Add Coffee or Tea and Van Gogh's Ear Disappears Comes in a Fun Gift Box

4 Van Gogh Classics Coffee or Tea Mugs in a Matching Gift Box Bundle with 6 Tea Bags

---
Diamond Painting 20X16 inch Kit for Home Wall Decor

Try Your Hand at a Starry Night Diamond Painting
I love this….With this kit you can create a real life diamond painting version of Starry Night that you can frame and hang on the wall. Diamond art kits are really hot right now and they can be quite addictive too!  You can't go wrong gifting a kit like this to a die hard Van Gogh fan.
It involves taking a multitude of crystal bling pieces and strategically placing them in a special grid according to the numerical guidelines. Everything is included  along with the canvas grid, a stylus applicator pen, all the diamond gems,  tweezers and tray to keep the diamonds in one place.
Van Gogh's Art Themed Decorative Pieces
Check out these gorgeous throw pillows…
Nothing like a duplication of the art to adorn a traditional throw pillow that will really make the sofa look super-swell! Zazzle is like Etsy, a very popular boutique style venue that caters to people seeking customizable gifts.
And it looks like there's a lot of sellers on there who love Van Gogh, as I saw options for not just Starry Night and the Sunflowers, but some of his other works involving blossoms, nature scenes, outdoor cafes and wheat fields (Yep, he loved nature too!)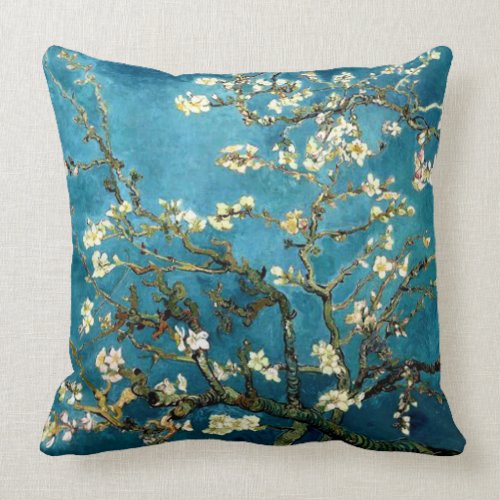 Almond Tree Throw Pillow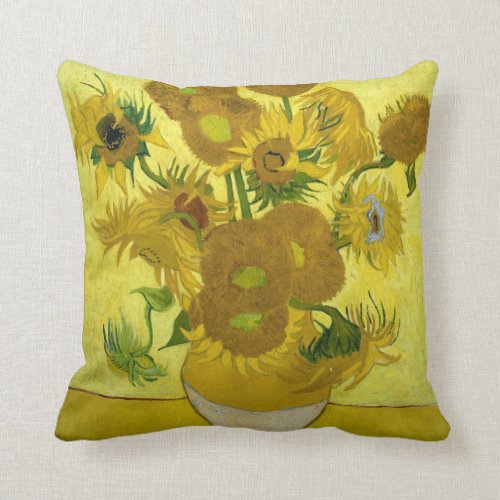 Van Gogh Sunflowers Pillow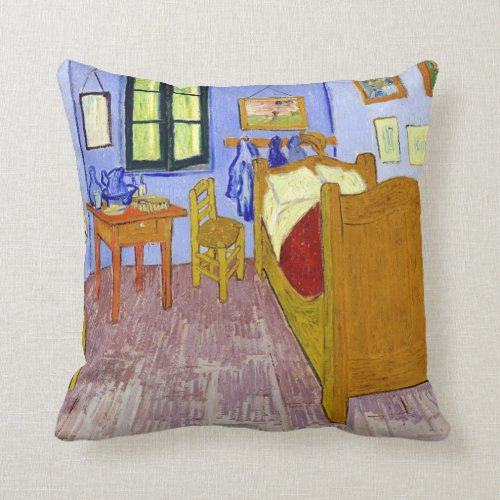 Van Gogh Bedroom In Arles Pillow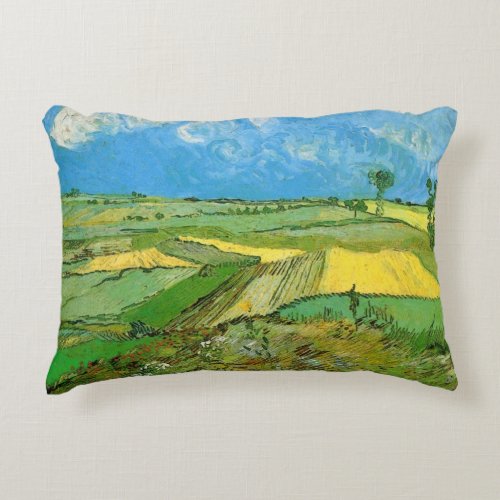 Van Gogh Wheat Fields at Auvers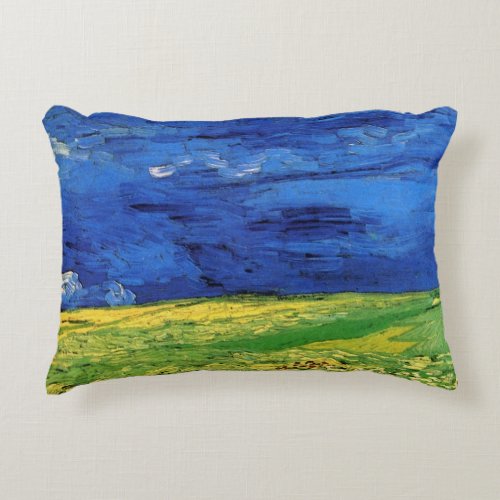 Wheat Field Under a Clouded Sky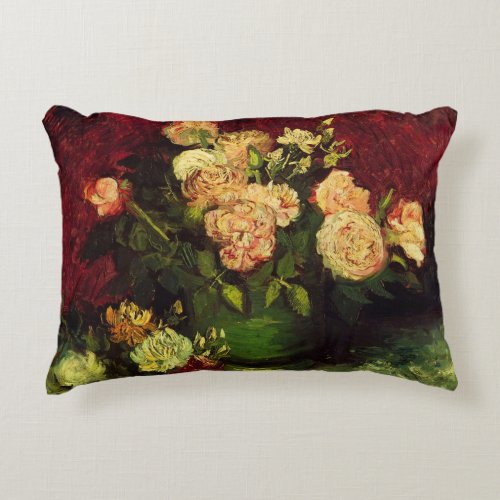 Bowl with Peonies and Roses

You can customize any of the products above to your liking with any of the preferred works of art available. Sometimes there are coupon codes and special discounts offered, so be sure to check for them before purchasing.
Starry Night Shower Curtain
Dress up the bathroom with a beautiful repro of Starry Night….and why not complete the ensemble with the bath set combo with a toothbrush holder and lotion dispenser too? Fabulous!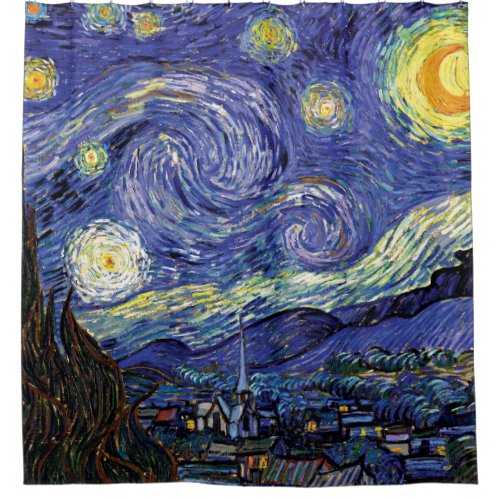 Vincent Van Gogh – The Starry Night Fine Art Shower Curtain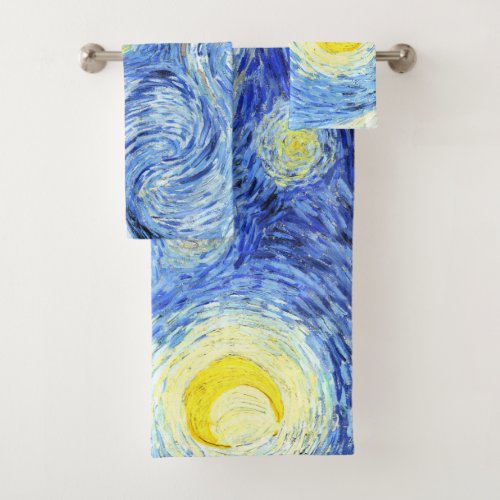 Impressionism Van Gogh Starry Night Bath Towel Set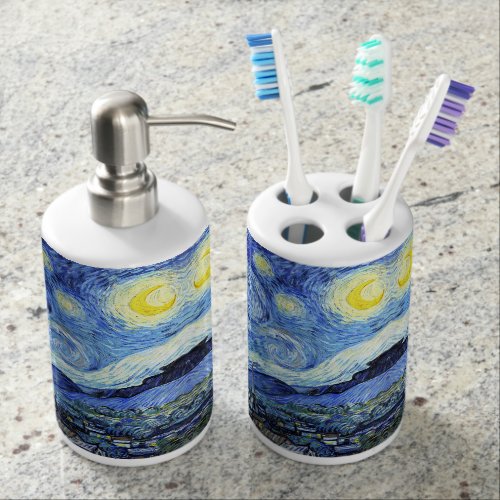 Starry Night Van Gogh Impressionism Bath Set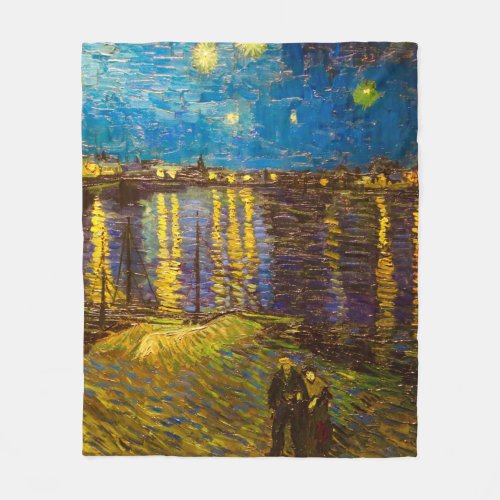 Vincent van Gogh Art Fleece Blanket

Throw For the Sofa
And that's not all, you can also find beautiful printed throws and blankets too featuring Van Gogh's work.
Beautifully designed, these are perfect for lounging under on chilly autumn nights, draping over the sofa, or something lovely to spread out when you have to be seated somewhere not so soft, like at a ball game.
And let's not forget it's a great conversation starter too!
Check availability of the various designs…to see if you can find the preferred work in this blanket.
I Love These Van Gogh Art Table Lamps!
A snazzy looking table lamp paired with a shade professionally printed with one of Van Gogh's famous works? Yes please! As someone who loves making and collecting unique lamps, I knew I had to include this one. Choose from two different styles, a more traditional desk or end table style lamp, or the lantern-style "tripod" one below.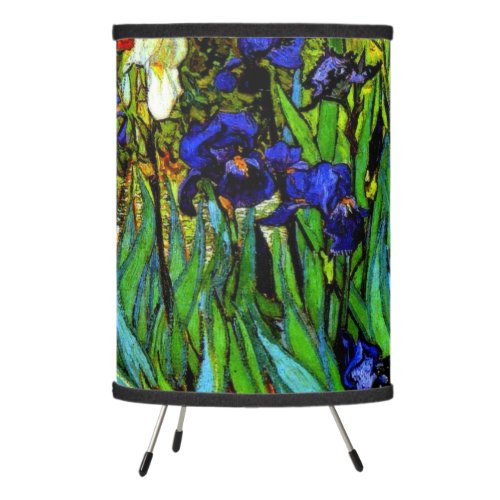 Van Gogh – Irises, fine art floral painting Tripod Lamp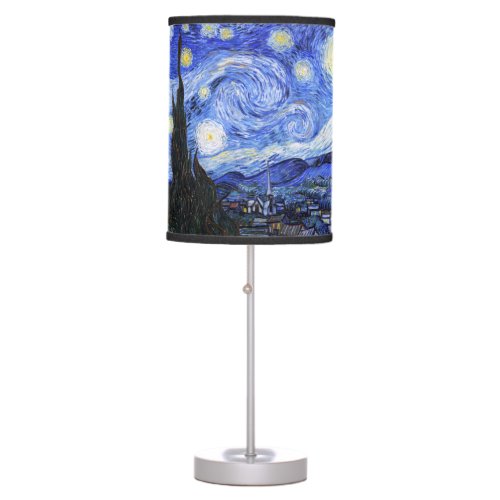 The Starry Night by Van Gogh Table Lamp

I believe you can also choose just the shade by itself, but getting the lamp and shade is way more fun. I can't think of a better way to view his great art than under a soft light!
Vintage Van Gogh Almond Blossom Night Light

…And a Starry Night Nightlight
If you're thinking sweet and simple, this nightlight is also a great choice! You don't ever outgrow nightlights…especially those that are unique like this.
You can switch it on or off at the front and it takes one of those C7 bulbs (like people use for Christmas lights). A brilliant gift idea, and one that is sure to be treasured for years to come.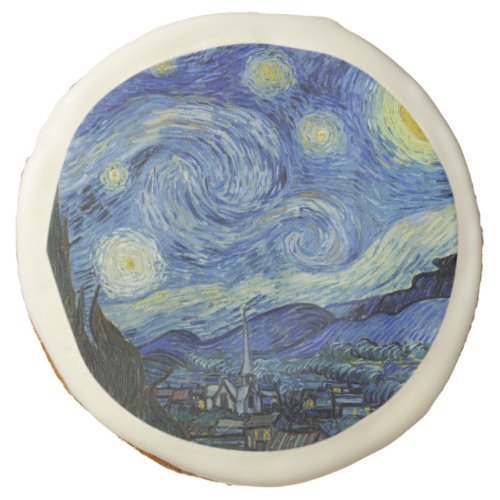 The Starry Night by Van Gogh Sugar Cookie

Last But Not Least…Here's a Real Sweet Treat For Van Gogh Fans!
I just stumbled into this one…guess I have saved the best for last! Have you ever sent a friend or relative cookies ? Of course, we all have…but these are unique…these tasty sugar  cookies are actually printed with the Starry Night scene!
You can choose from round or square….You may want to plan a little time in advance to see how long it will be before they reach your intended person's mailbox or doorstep in the freshest condition. But one thing is for sure, it will be love at first bite! This is one gift idea that will ensure that you aren't forgotten.
Hope you enjoyed this lineup of Van Gogh gift ideas…now you can make a lucky art fan's day today!
Oh and one last thing….Have you ever had a chance to watch the autobiographical movie "Lust For Life?" It stars Kirk Douglas in the role of Vincent. You'll come away with a renewed appreciation for the "struggling artist" archetype…not to mention the relationship between him and his biggest supporter – brother Theo, is very endearing.
It is kind of an older movie so not always easy to locate access to but I did manage to find out that you can view it for a small price if you have Amazon Prime. Check it out, I think you'd like it!
==>> Don't forget to check out all of my other Gift Guides!